Hooray! It's a long weekend and I'm finally starting to wind down from two weeks of STRESS. I haven't been sleeping well and I notice my resting heart rate seems high, but I assume both of those will settle down on their own. I'm doing lots of stress-reducing, favourite happy-activities this weekend (hiking, resting, baking, seeing friends, exercising, etc.) so that will help!
I mentioned last week that I ordered a Bodymedia Fit "Link" online. There used to be a SparkPeople discount, but that may have expired (it was on the DailySpark a while back)... I managed to find a 20% off IBM coupon code (google it, people!) and that essentially covered shipping and brought the total price down under $200. Expensive for a toy, but if it motivates me, that's great.
It arrived Friday, and I've been playing with it since. So far I've been able to get it to link up with my iPhone and display data there, although you have to remind it to re-link whenever you want to look at the data by hitting a button on the Link (you can make it continue connection but that's understandably hard on cell & Link battery life). Getting the online "dashboard" and the iPhone app "dashboard" to match each other also isn't 100% consistent... I can track my food on the iPhone app, for example, and see my current calories burned; but when I look online, the food tracked shows up but the calories burned don't (at least until I plug the Link in via USB cable and upload)... so it looks like I have a calorie surplus when I don't. I haven't figure out why that is. Could be that I'm doing something wrong.
I also have been playing around with wearing it on my calf rather than my arm, as it's a bit more subtle. Seems to work okay. A blogger I follow mentioned that it worked fine for her in both locations when she checked it out. Here are her two reviews:
www.fitfoodieshealthylif
e.com/2012/02/product-revi
ew-bodymedia-fit-core-armb
and-livefit-54/#.T7ljB8VqS5I
www.fitfoodieshealthylif
e.com/2012/02/product-revi
ew-bodymedia-livefit-59/#.
T7li3sVqS5I
I actually contacted her and asked if she still liked hers before I bought mine - she said she did!
So far it's pretty cool what this baby will tell you - if you like data, you'd love it. However, knowing you've inhaled 500 extra calories today and actually making the changes to your habits such that you don't do it again are two different things. This is the place where I think I may struggle.
However - knowledge is power, and once I get the hang of this thing, I think it will be motivating.
The biggest change is that I have to track calories on the BodyMedia website, which means I won't be duplicating that effort and tracking on Spark as well. However, I don't have to track calories burned, as it collects that data automatically.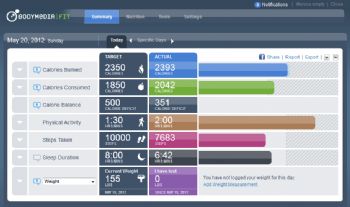 You can see my workout at 4pm, and that I we went to a movie tonight!
Also really interesting - it tracks your sleep!

The dark grey is sleep and the light grey is laying down but not sleeping.
No wonder I've been so tired! 83% sleep efficiency! That stinks!
I think it may take some time but I'm going to work on improving all those stats.
Little by little.
First off, though, I'm going to bake two more batches of cupcakes and finish off my wedding cake recipe trials.

Oh - P.S. I did 4 x 4 minute tabata intervals (8 x 20-sec on, 10-sec rest, each) this afternoon, plus warm up & cool down. It was intense, but I really liked it! Short but sweet. It was half of this video:
youtu.be/ifmje0nVRbg