This weekend's "Freggie Dare" challenge, courtesy of the BLC-19, inspired me to try something I've never had before: parsnips.

Now, parsnips aren't exactly an exotic vegetable -- they're easily found in most grocery stores, and look familiar enough (like a white carrot!). The name is pronounceable, and the cost reasonable. So, why did it take me so darn long to try them? I've been through 3 rounds of the BLC already, including one with the Forest Green Pixies (who are known for their love of all things freggie, and regular participants in "rainbow" challenges -- and we're not talking Skittles here!), so I thought I had tried just about every freggie out there.
But, for whatever reason, parsnips never made it into my grocery cart until now.
This is one of the things I love about the BLC: it pushes me out of my comfort zone, encouraging me to try things I might not have otherwise. Like parsnips.
I picked up a bag of the white carrot-y things with nary a thought as to what I would do with them (except eat them, of course!). Once I got home, I sat down at my laptop and Googled "parsnip recipes", looking for one that was simple, used ingredients I had on hand, and received lots of stars.
This is one fit the bill on all counts:
www.food.com/recipe/oven
-roasted-parsnips-17407
1 1/2 lbs parsnips, peeled and julienned
3 tablespoons olive oil
2 pinches cayenne (to taste)
1/4 teaspoon sea salt (or more, to taste)
2 cloves garlic, peeled and minced
Directions:
1. Preheat oven to 450-degrees.
2. Layer parsnips on baking sheet in single layer.
3. Sprinkle with next three ingredients, tossing well to ensure everything is coated well.
4. Roast 15 minutes on bottom rack, stirring occasionally.
5. Sprinkle with the garlic and roast until well browned, about 15 minutes longer.
6. Let cool slightly, adjust salt if necessary and serve.
I happened to have a sweet potato on hand, and the challenge calls for eating a serving of sweet potatoes... so, I julienned that baby, too, and tossed in in the pan with the parsnips (keeping it separate, though, as I didn't know that I'd like garlic on my sweet potatoes).
The results: somewhat soggy, somewhat burnt fries... but, tasty enough that I ate 'em all up! Somehow, I got the oven temperature wrong initially, starting at 350 instead of 450 for the first 7-8 minutes; that could have been part of the problem. And, maybe I used too much oil -- I have a tendency to "eyeball" instead of measuring, which can be dangerous but fun ("real" chefs don't measure, right?!).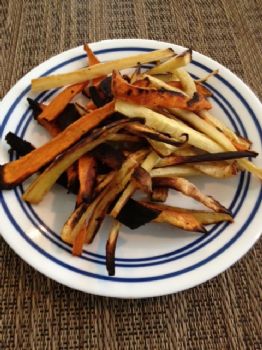 Would I make them again? Absolutely!
Now, I should note that there are LOTS of fabulous-looking parsnip recipes on SP... I don't know why I didn't think to look there first when I went recipe-searching! Since I like to put everything into my food tracker, I typically go directly to the SP Recipe Finder when I want to try something new, and am rarely disappointed.
Thank you, SKINNYSOON13 and all you BLC Admins, for encouraging us all to "taste the rainbow" (sorry, Skittles)!

But, I STILL don't like Brussel sprouts or beets....