Sunday, May 20, 2012
We are rehearsing a lot for our summer show, the first opening is the 6th of june and we are getting things together and starting to believe that this will be great. We have an act where there are live "paintings" - their frames are hula hoops and after a while they start hooping with their frames - I think that it is one of the best acts this summer and here is a picture from yesterdays rehearsal (they wear the wigs to get accustomed to do the routine without losing them...):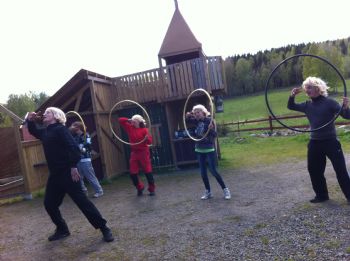 As for me my entrance is inside a cake... a rather big cake and I am waling in with doggy sitting on an edge inside it. When the carriers put it down, I have to crouch down and stay for a while - although I am also to move the cake around a little bit, carry it from inside with dog still sitting calmly... my problem is the crouching. That is hard for me in all circumstances, but inside a tight space it is almost impossible. Well I can crouch but then I am supposed to come up as a surprise from within and raising from that crouched position involves a lot of huffing and puffing I am afraid... My costume will be kind of voluminous too. The good thing is that I am really motivated to exercise, I really want to do this!
Doggy finds it surprisingly easy to sit inside on that small shelf while we are carrying. It is really interesting to try to act with a dog (as untrained as mine is) you have to be really good at improvisation to get with whatever the dog is coming up with....