Product: Yonanas Machine
Ordered from: Bought at my local Target but available online
Price: $49.99 (+shipping if ordered online)
Product Link:
www.target.com/p/
Yonanas-Maker-Silver-Black
/-/A-13541734
Manufacturer's Description: As you look for ways to boost your intake of minerals and vitamins, improve your athletic performance or shed those unwanted pounds, you might not have to look much further than a simple banana. Available year round in its own environmentally-friendly packaging, the Banana is a healthy choice for the young and the old. Your yonanas maker will turn those over-ripe bananas into a delicious and creamy treat that looks and tastes like soft serve ice cream.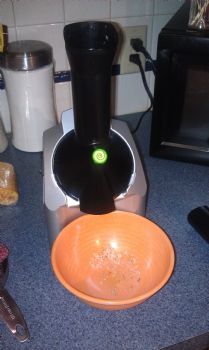 Ready to make some Yonanas!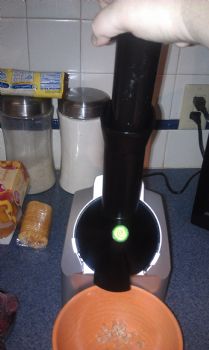 Insert one frozen banana and use the stick to put pressure on it, pushing it into the blades.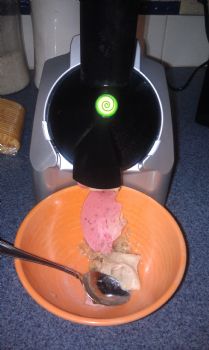 Once the first banana is through, you can add other frozen fruits like strawberries (shown here), pineapple, blueberries, mangoes, etc. According to the directions, for "ice cream" you will need to start AND FINISH with ONE banana. On the website, however, it tells you how to make a sorbet without using bananas. Sorbets are less ice cream like. They are more slushy and require partially thawed fruit.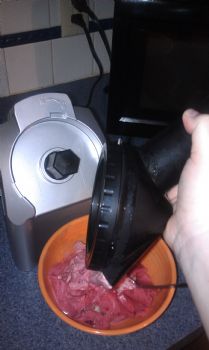 Once all the fruit has been processed through the machine, just take the blade assembly off of the motor. All the clean up is on the blade assembly.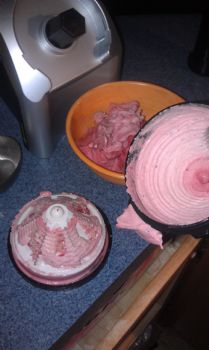 Remove the blades. Inside is more goodness you can scrape out and add to your bowl.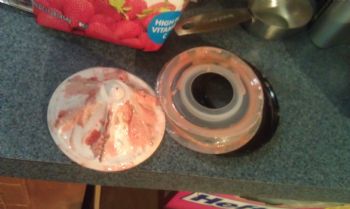 Once all three pieces in the blade assembly are disassembled and scraped they are ready for easy cleanup!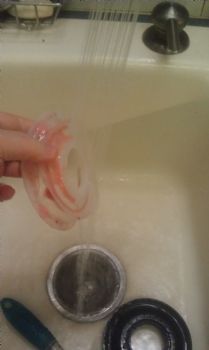 Simply rinse all parts with hot water. Clean up is easier when using a colorful fruit like strawberries. Be careful to get all the little nooks and crannies, especially when only using a light colored fruit like bananas.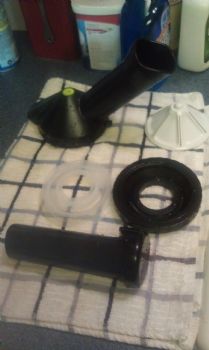 Air dry before re-assembly and using again!
Pros: Healthy treat, satisfies an ice cream craving, no added preservatives or sugars, uses over-ripe bananas which saves money, fruits last longer in freezer so no need to worry about spoilage, make ahead and keep in the freezer for large groups, easy clean up.
Cons: Noisy, fruits are usually high in natural sugars, requires at least 24 hours of freezing so planning is necessary.
Additional Notes: Everyone in my family loves the machine! It sits on my counter right next to my microwave. It has quickly become a highly used kitchen tool. After about four uses it has paid for itself in saved fruit (no throwing out rotten bananas or other fruits) and the cost of the low-fat, low-cal ice cream or yogurt that has lots of sodium and preservatives added.
Overall Rating: 4/5