Friday, May 18, 2012
Oly Total on Wednesday:
Clean & Jerk: 115
Snatch: 75
Olympic Total: 190
Thursday's WOD:
"The Madden"
AMRAP 20
3 Front Squats 185/135
10 Ring Dips
4 Elevated Ring Rows
10 KB Hang Squat Cleans 1.5/ 1 POOD
I modified 95 for the Front Squats (you couldn't take it off the rack so I had to be able to clean whatever weight I chose) and a band for the ring dips.
I got 6 rounds 3 reps...my bad shoulder was KILLING me so I tried to take it easy.
Still LOVING my new box.
Now onto my dog. She had a stroke yesterday. We brought her to the vet - she is pretty much paralyzed on her right side. She isn't in any pain and seems to be mostly there mentally. She wags her tail when we say her name etc. but she's pretty much a rag doll and lays wherever we put her.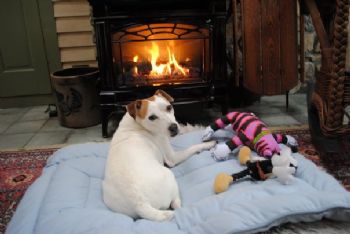 (picture of her from Christmas a few years ago)
It is really sad. We got her when I was 12. I did 4H with her and trained her/showed her. We had the option of putting her down this morning but we just couldn't do it - not with her being fine besides her physical disabilities. Her breathing is a little rocky - we are pretty sure that she has a brain tumor that is causing both the paralysis and the breathing.
For now we are just hoping she is going to 'tell us' when she is done. We don't want to have to make that hard decision too quickly knowing that she isn't in any pain or discomfort....we just have to decide when her quality of life has declined to a point that isn't fair to her or us.