my arms are super flabby
Thursday, May 17, 2012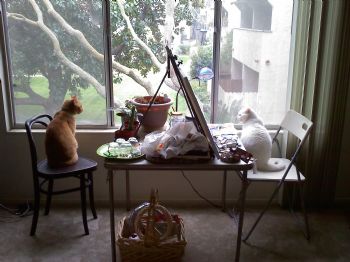 I love ice cream!
Wow... It's been over a month since I posted in here and I feel like I have changed for the better in some ways but in other ways slid downhill. I havent been doing that well on my exercise routine which is a bummer. I've been drinking more mochas and eating ice cream and generally not watching what I eat. I HAVE been having more salads though and I can DEFINITLEY say that vegetables are more a part of my diet than a year ago. I wasn't eating any vegetables and now I eat them somewhat regularly with meals. I have salads pretty often and I have learned to make then a side to some of my meals. I'm saying I'm great at it or anything, but I certainly prepare vegetables more. My favs are baby carrots, cucumbers, and I really like cooking up some spinach with butter and garlic. Yummy... I should have bought some yesterday and trusted my instinct that I wanted some spinach!
For dinner I had a beautiful salad. I was inspired by my sister yesterday when she made me a chef salad at her house. Salad, mushrooms, ham, feta cheese, dressing, and tomatoes. There is something about tomatoes that I just love and I freak whenever I don't get them on my salad. Anyways......... I made a salad today with 50/50 packged lettuce, tomatoes, and big chunks of chicken fried in peppers and mexican spices. YUM!! I did really well on not eating a bunch of chips with the meal which has been my downfall everytime I buy chips lately. I ate chips on the side with some beans and avacado. So tasty! I'm out of salsa though so should probably go to the store.
Did kickboxing and was SO awesome.. SO glad I went. Exercise means a lot to me. Oh, was sparked after doing Zumba with my sister yesterday. Zumba on Wii is pretty fun and I highly recommend it.. especially with a friend.
I hope to continue to cut back on my mochas, which has been my almost constant addiction for 6 months... and start drinking more water again. The mochas are giving me gross belly fat I think. Maybe I'll try to incorporate stretching and weights again. One step at a time!
Noel