Well, A few weeks ago I participated in my first half marathon. To be honest, I didn't train very well for it, and I knew that going in, so my goal was to just finish it.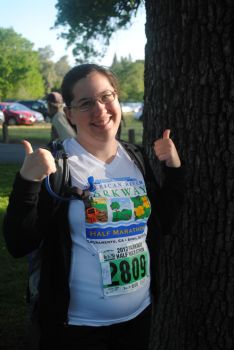 Woot! All ready to start!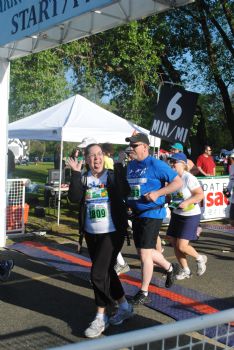 Funny face to hubby as I cross the line
During the race, I would set myself a starting place to jog "when I get to the sign ... that tree ... etc" and then jog to a set spot. For part of it, there was a running group so I might match their pace as well. Once I rounded the halfway point to turn back, I started being more by myself so set my own pace. Never was I consistent with my pacing though. There were motivational signs throughout that helped me along. One that I remember was "you know you're a distance runner when easy and 10-mile run are in the same breath" or something like that. I was like ... "haha, guess I'm not a distance runner then." I met up with hubby who had biked to get some mid-action pics of me.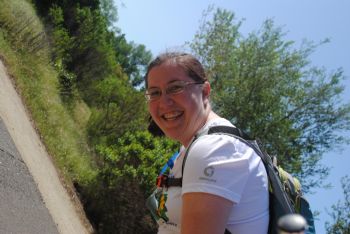 Taken by hubby while he was riding his bike, just kind of guessing, not really looking through the lens.
Mile 10 - 11 was when I started feeling pain in my thighs and calves. No blisters though!!! My energy stayed up pretty well as well!!! I was pretty happy. Officially, there were like 50 people I beat, but at the same time, there were about 2,000 people ahead of me. So yeah, no records there. However, within my last mile, I would push myself several times to "just finish in front of that person ... don't worry about your time, just beat that person".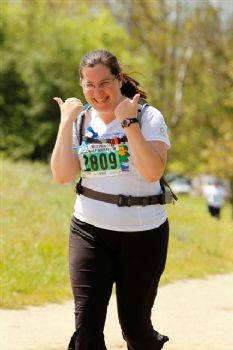 Woot! Almost done! (taken at about mile 12)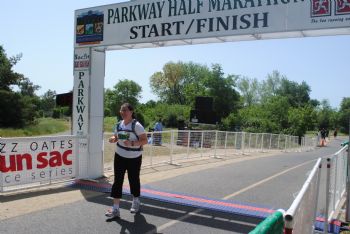 Crossing the finish line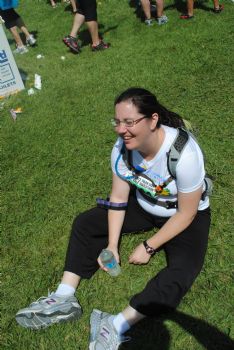 Oh so tired afterwards!!!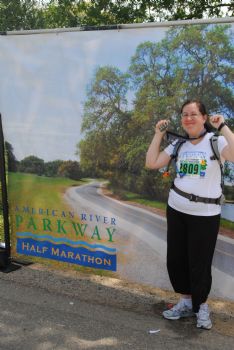 Victory dance with my medal after!
Totally would do another half marathon. Next race I'm planning is a 5K beer run (don't worry, you don't get the beer til afterwards).
~~~~~~~~~~~~~~~~~~~~~~~~~~~~
~~
Alright, so now some home updates ...
We moved into a house at the end of February, and there's only one room that is officially done ... the bedroom (okay, and the bathrooms...). Note, we didn't paint, so further decorating will probably be done in the future.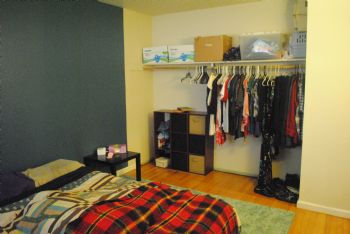 My side of the bed, and the closet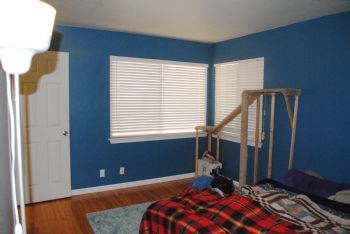 Hubby's side and cat tree. As a side note, that cat tree has survived three moves, and was built in the living room of our first place together. Not bad on my hubby's craftsman skills, huh?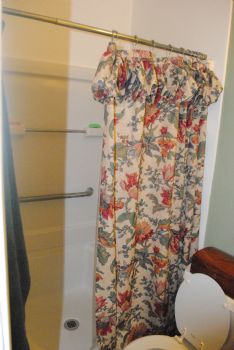 Master bath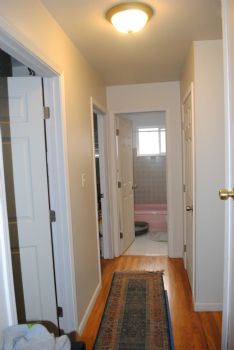 Hallway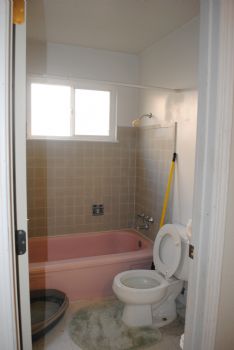 Hall bath
We've also worked some on our yard, and are enjoying some already existing stuff. Hubby has also started his handyman projects as well.
Existing plants include a lemon tree and these artichokes. There's probably over a dozen, and its getting to be as tall as the fence. And look at the size of that one!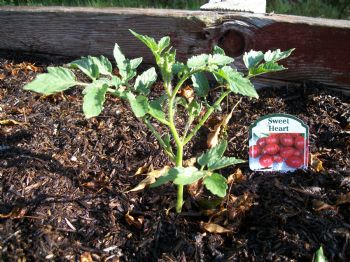 Stuff that we've already planted is some peppers, tomatoes, and garlic. More to come as we clear space.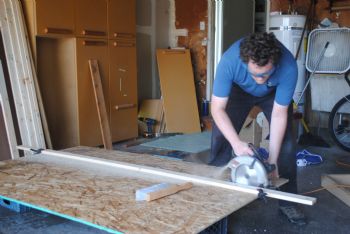 Hubby meanwhile is hard at work building a work bench for the garage. So crafty isn't he?