Tuesday, May 15, 2012
I was feeling very hungry just a couple of hours after breakfast. I knew I had to prepare lunch immediately. I was too lazy to cook anything from scratch. So I decided to boil some macaroni and campbell's macaroni soup. My 375 calories lunch looked like this:
Just after I threw in the macaroni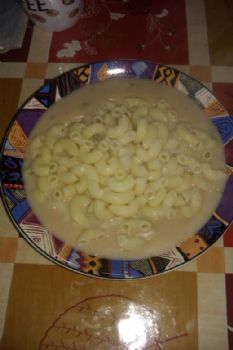 After mixing it up. I don't actually like seeing the bubbles appear as the macaroni soaks in the soup. It looks wierd.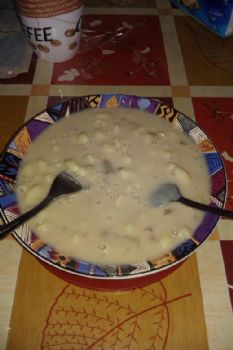 When I saw what was in front of me, I felt like it looked like a huge portion. Halfway through eating it, I was already getting full and I wanted to stop. But I deliberately continued to finish up the entire serving because I knew I needed the calories to go on till at least another 4-5 hours more.
I can't imagine that amount felt like a little too much for me. I remember that I used to eat probably 2 or 3 times that amount of food and still felt like it wasn't enough. Is that a sign of a shrinking stomach? Do stomachs actually shrink anyway? Does anyone know?