When do you stop seeing yourself as too big?
Monday, May 14, 2012
Sunday we had the nicest day. My daughter Catherine took me, my mother, and my mother in law to a brunch at the Franklin Park Conservatory and Botanical Gardens. It was a fund-raiser for the vet school, so it was doubly nice. The conservatory was stunning -- loved the orchids. Great setting for a nice meal.
We took all the obligatory pictures. I had a hard time, though. In the ones we took before and the ones we took there, I keep seeing myself as, well, not fat, but . . . too big.
I think a lot of people who lose a pretty big amount of weight have to deal with this. I'm not under any illusions that I'm at my goal weight or anything, but at the same time, I know I'm supposed to see that I look nice in these photos.
I'm also not posting them to fish for compliments or anything. As I said, I know I still have 30 pounds to go. I'm just wondering what your experience is with this phase of weight loss and how you've dealt with it, how it unfolded in time.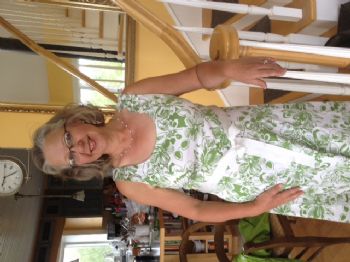 Here's one with my daughter. : )
Editing to add: Found this blog on SP. I need to pay attention to #4.
www.sparkpeople.com/reso
urce/wellness_articles.asp
?id=271