This past Saturday we ran in the Sin City Devil Dash (a.k.a. Las Vegas). It was a 5k adventure run/mud run. A couple months ago, a friend of ours decided she wanted to do this race and got my wife super excited about it and that got me roped into doing it, too. When my wife decides she wants to do something, "she" usually means "we". That's not necessarily a bad thing.
I had never done an adventure run like this, so I wasn't exactly sure what to expect. Sure, I read all the articles and watched the videos on their website, but that's just a poor substitute for experience.
To be honest, it made me a little nervous. I've run a few half marathons and the 5k run part didn't faze me. What made me nervous was the obstacles and the weather. Within the last two weeks we realized it was going to be hot for race day. Like 98 degrees (without Nick Lachey). I wasn't looking forward to running through mud and then running the rest of a race while soaked in water (or other liquids) or caked in mud. And then the idea of having to navigate various obstacles of varying levels danger and the possibility of slipping off of something while wet or muddy... well, yeah, needless to say I was a bit apprehensive. But, I still went in expecting fun to be had.
So, we brought everything the race website suggested. A garbage bag, a towel, a change of clothes, our ID's, sunscreen, water, money for beer, etc. You know the important stuff.
There were two parking lots: one next to the course, and a second off-site lot that they recommended for those arriving after 10:30am. Our friend had decided we should all sign up for the 1:30pm wave (which meant we would run at the hottest part of the day, whee!), so we dutifully parked in the offsite parking and took the shuttle. Of course, when the shuttle dropped us off, we could see there were plenty of spots in the lot next to the course. Oh, well. Didn't make a difference, really, and we were able to put on our sunscreen inside the shuttle.
The course was just up-slope from the edge of Boulder City. It was all dusty and rocky. The main area was set up in a flood catch-basin and the course ran through the hills around it. There was no shade other than a couple large "Chill" tents that were packed with people and the registration and gear-check tents.
It was a good thing we had at least some forethought to drink water on the way because they had no water available. The only water on-site was at the 3 or 4 food trucks smashed between the beer tent and gear-check. Even the hand washing stations outside the port-o-potties were out of water (Nasty).
We had each brought an emergency bottle of water in our gear-check bags, but didn't want to use them already, so we stood in line for 15 minutes at one of the food trucks and each both a bottle of gatorade. At least the water was only $2/bottle and the gatorade $3 for a 24oz bottle. Still, on a 100 degree day with no shade and just pure dust and 2% humidity, you would think they would have some sort of water station available.
After that we all made sure we had taken all the pictures we wanted and had all our gear on before finally dropping off our gear at gear-check and then heading in the direction of the port-o-potties and the starting chute.
Everything else was pretty organized, tho, from packet pickup to the safety pin tables to the gear check-in. And they had plenty of port-o-potties. They just didn't have any water to go with the soap in the hand-washing stations.
Their loudspeaker by the starting line was drowned out by the band playing on stage next to the beer tent, but we were close enough to hear them tell the 1:30 runners to go to the staging area and that we would start in 15 minutes. We laughed and chatted and soon enough it was time to run.
The race started and off we went. The trails were all rocky with a mix of packed and loose sand. Footing was a little scary, but I never saw anyone fall or slip, so it wasn't too bad.
The course was anything but flat. It was all ups and downs through the rocky hills.
The first big obstacle I remember is going down a steep dirt hill while holding onto ropes. Then there was the 4 foot pit we had to jump into and then back out of. No mud, just dirt and rocks.
The rest of the obstacles are mostly a blur for me, mostly because nearly all of them were anything but memorable. A few of them were just little trenches or hills that I wouldn't even have known were obstacles if they hadn't posted signs next to them. "Hell of Wheels" was a series of maybe 8 steep 3-foot tall mountain bike jumps. Might have been scary on a bike, but they were anything but scary while running. They were actually kind of fun to run on because your downward momentum would carry you up to the top of the next one.
The hardest/scariest obstacle was "Satan's Temple" which was a two-sided pyramid where you had to climb up one side which as widely spaced 2x4 ladder-type structure that flexed kinda scarily with all the people climbing up it. Once you reached the peak, you had to use a rope to rappel down the other side which had boards stand on that were at least 2-3 feet apart. My wife froze coming down the ropes because of the steep drop and lack of footing. I tried to yell up encouragement and directions, and just as I was about to climb back up to help her down, a guy next to her was able to talk her through it and she made it down.
The rest of the course was mainly hills, rocks, and dust. There were 3 aid stations. The first handed out cups of water. The other 2 (which was actually the same station we passed two times in different directions) had warm/hot bottles of water which wasn't all the pleasant.
We all planned to run together for the whole race. I was the fastest of the three of us, but it didn't matter since we stuck together. The combination of heat, dust, hills, and my wife's asthma really got to her and we ended up walking a fair portion of the course. But, we all still ran when we could and chatted and still had plenty of fun. Tho, at one point they seemed to get too comfortable walking and chatting like we were out for an afternoon hike, and I had to chide them into running again.
The obstacles didn't really seem to resemble the map on the event website that well. A few had their order switched and a few seemed swapped for something else or were re-named.
The last 4 obstacles were back-to-back-to-back-to-back, right in front of the finish line.
First, we had to pick our way through a pyramid that had a web of ropes.
Right after that was the army crawl under barbwire through "mud" (more like thin muddy water) where the worst part was the gravel on the bottom at the end.
Immediately after that was the "Blood bath" which was just cold, red-colored water. This was actually the best part of the whole race because we were hot and the water was "cold" (more like cool, but hey, it felt great!).
Finally, they had 3 circles of flames. The 3 of us held hands and ran through them and then crossed the finish line.
After the finish line they handed us each a bottle of water and our race medal and then a beer ticket (which we got after we gave them back their timing chip).
The bottle of water was nice. The line for the beer tent looked like the worst obstacle of all, but it turned out to be mostly just misc groups of people just standing around chatting and the line itself was really short. The first beer was cold (and included in our race price!) and refreshing. None of use had any beer other than the one beer, but boy was it good!
We then picked up our gear and headed over to the showers. The showers were all outside, so it was hard to shower off and then change clothes. But, since there really wasn't any "mud" on the course, we weren't really all that dirty. You could leave your shoes and all the shoes would be donated to the Salvation Army who was there with trash bags and a truck. Our shoes weren't muddy at all, tho. Just wet. We stuck with our plan and left them, anyway, tho.
I then went to one of the port-o-potties and changed my clothes while the girls changed behind a dumpster and got scolded for it.
Then we took some more pictures and then got back on the shuttle and went home.
We had a lot of fun. The event was fairly well organized, tho it seemed like they expected everyone to drink beer instead of water or bring your own water or buy it from their small number of vendors. Beer is fine for after the race, but i wasn't going to drink beer to hydrate myself before the race. The map and the obstacles didn't seem to match up. And most of the obstacles were pretty wimpy - if you could even call some of them obstacles. We all wore gardening gloves to use on the obstacles with ropes and there were two or three obstacles that we needed them for and they came in VERY handy for those obstacles and we were glad we wore them.
If I had done this by myself, I could've finished faster, but since I stuck with the girls - and my wife had heat/dust issues and needed to walk - I never really felt that challenged (there were a couple of nasty hills, tho). But the course was definitely hilly and dusty and it would have been very challenging for me to keep up anything close to my usual running pace on such a course. As it turned out, with all the people waiting in line at the obstacles - despite the wave start - the obstacles actually gave us all a chance to rest and recover from the running we did in between them. In the end, I didn't find the race that challenging, but I think if I had tried to run my own pace, I probably would be telling you otherwise. And, it was definitely hot.
The course went through an established mountain biking course and near a zip-line operator, so it had some random facilities that we passed by. Towards the middle-end of the course, there was a bathroom that we passed by and lots of people were stopping to use it, or the drinking fountain, or the sit in the shade. There was one girl lying in the shade behind the bathroom looking miserable, so I asked her if she was okay. She said she was just waiting for her friend. A couple second later her friend came out of the bathroom and walked toward her and said dramatically "Are you okay? I better call you a nurse! Oh, wait, I AM a nurse!" and we all laughed at her.
Anyway, here are the pictures to prove we did it AND that we had lots of fun, too!
Before:
Finished!: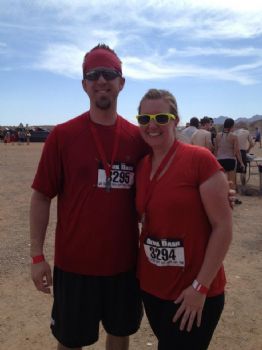 Finished 2 (w/beer):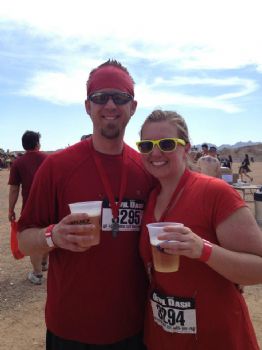 Finished 3: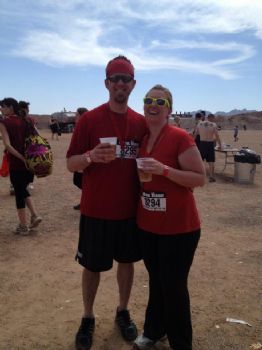 Finished 4: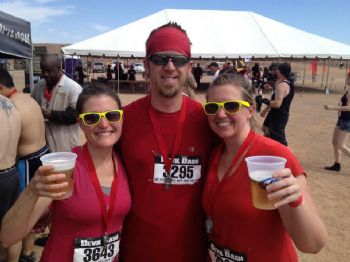 Post-Race w/clean clothes: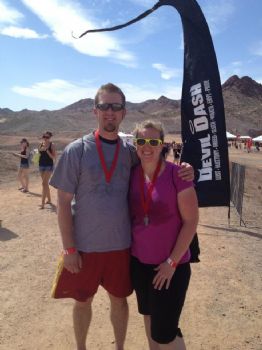 Medal: