This was a weekend I never could have made it through PWL (pre-weight loss), because it required lots and lots of energy. I was so thankful that I had energy to spare, because I really needed it.
Friday morning I headed out to my nieces house just west of town. She is a beautician and she colored and trimmed my hair. I said now I will look good for Mother's Day and surgery.

I met hubby and son for lunch, I had a healthy (hopefully? I'm never really sure about those Mongolian grills) lunch. I try to stick with mostly veggies, a little meat and about half a cup of noodles, and sauces that are not oil-based. I do indulge in ONE crab rangoon! Then I went across the street to the mall and had my nails done yet again. LOVE having pretty fingernails for the first time in my life!
I had to pick up DGD from her daycare provider about 4 p.m. Oldest son's best high school buddy passed away last week from a sudden heart attack (at 39!), so a group of classmates were meeting at one of the friend's favorite downtown bars Friday night. DGD spent the night and we had a splendid time as always.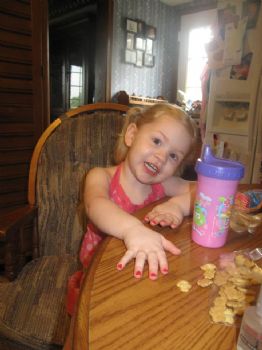 We started by painting her fingernails, which she always requests, then we did her toenails too!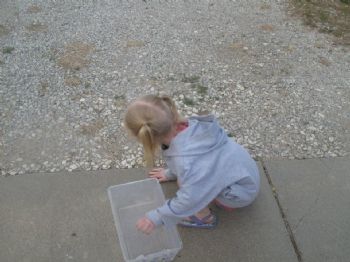 She likes to pick up and collect rocks from the driveway.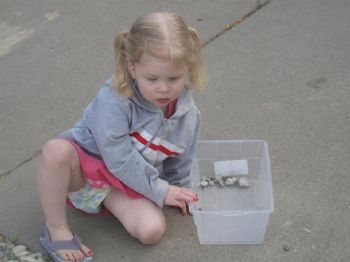 She could spend hours doing that.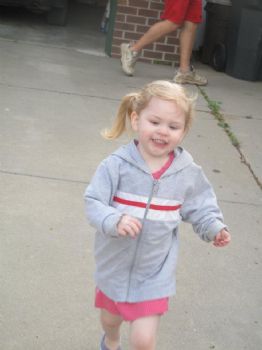 Then we headed up to the shed and hung out up there for a while. There's some toys up there too, and the tractor is always fun to play on too.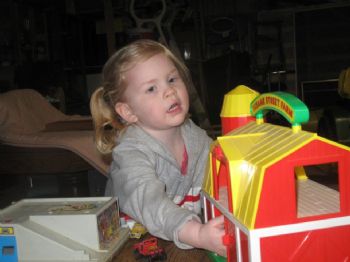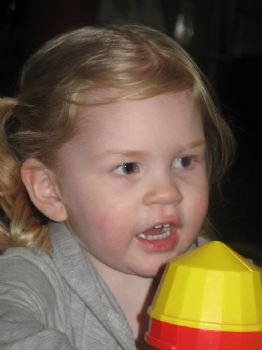 Forgive me if I brag about her too much..but I think she's gorgeous...and here's proof!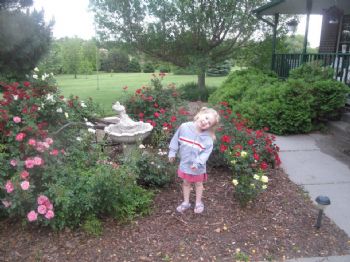 Then we returned to the front yard and I made her pose in the rose garden.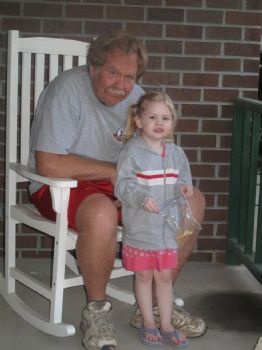 She sat with her Grandpa on the front porch for a long time.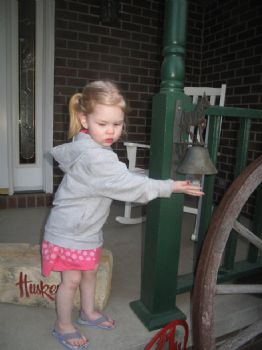 She likes to ring the bell.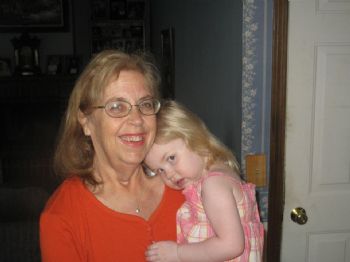 Then we went inside and she gave Grandma some loving too.
If you read my blog, you know hubby and I returned about a week ago from a vacation where we ate at a lot of barbecue places, and we collected a bottle of restaurant barbecue sauce every chance we got. We ended up bringing home 6 different bottles from 6 different restaurants. I also regularly buy both Famous Dave's sauce, as well as Kansas City Masterpiece, and a local brand called Holliman's. So we had nine sauces to choose from which seemed to call for a family barbecue. Since Mother's Day was coming up I invited my extended family out for the holiday. Now usually I insist on being taken out to a restaurant for Mother's Day, but to be honest, that can be quite a hassle, because EVERYBODY takes their mom out for Mother's Day, and every restaurant in town is packed and has a huge waiting line. Nobody in my family (including me) enjoys waiting much, so I hosted our get-together gladly this year.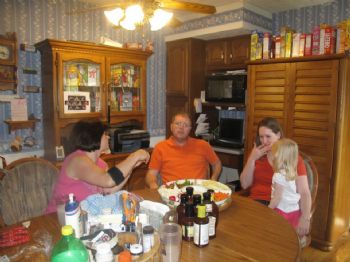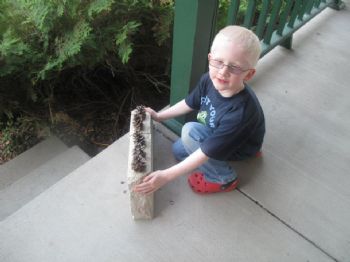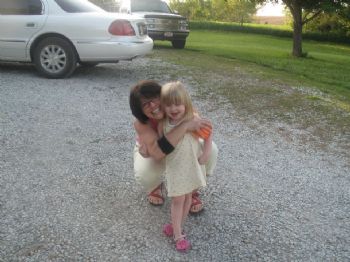 My usually sweet DGD was out of sorts yesterday, she hurt her knee at her other Grandma's house and they had put a bandaid on it, but for some reason it didn't help, and she was most upset all evening.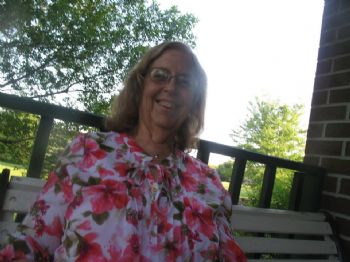 Foster granddaughter likes to play with the camera, she took this picture of her Grandma.
It was a wonderful Mother's Day, youngest son got home from his work trip in time to be there, my lovely niece and her daughter joined us, I had my two oldest sons and their families, and hubby grilled ribs, brisket and sausage, so I don't think it gets much better than that. I am a very grateful Mom!