Hi sparkfriends!
This blog may be sort of bitter for a few here....It's Mother's Day!...Happy Mother's Day to all of my wonderful sparkfriends that are mothers!

I'm not a mother. In the biological sense. I was sort of bitter last night and rude and I think this is why....Kodi went off with his mother this morning for the day....he made her a card at school ....His mother doesn't buy him anything. His mother doesn't come to all of his baseball games. His mother doesn't re-arrange her work schedule/take less pay/give up time with friends/family so that Kodi can get where he needs to be and do what he wants. His mother doesn't hug him. His mother doesn't call him everyday. His mother doesn't.....well....you get the picture.
No..not trying to say I'm his mother or anything...I'm just a little....bitter...ya feel me?

***Ok..I vented...feel a little better now..
So this past week I've been ROCKIN it with fitness minutes...

I mean..getting at least 40 or so minutes almost everyday...and for me this is quite spectacular because..I'm tired....more like EXHAUSTED..and busy...so I'm proud. I'm noticing my abs getting more how I want them..and my legs..don't look like.....cottage cheese as much from the front anymore...2 major problem areas of mine. Now I can wear shorts and not feel like everyone might be looking at my thighs. I've been learning the meaning and point of "tighten your abs" when working out....they all say it....I think now that a lot of the fat is off the top layer I can actually FEEL myself tightening my abs...Yesterday Bambi and I went for a 4.5ish mile walk/jog. The weather is BEAUTIFUL here this weekend. I tried to stay conscious of holding my abs in.
I'm getting myself a routine because I've been doing quite a random routine of workouts since I'm not religiously doing Body Rocks anymore...(still am but not as much) I'm going to do Jillian's 30 day shred. Not daily but 3x a week so today I did my first day of level 1 (also added a short walk away the lbs type workout and a 6 minute spark lower body workout) I'm going to do 30ds weds and then friday again. Then start with level 2 next week...and so on...I'm going to do other things on the other days..whatever I feel like...but I want to at least have some sort of "regimen" without being tied down DAILY to a program....I lose interest fast if I've already done the program a time or two..or three..before. So I'm excited. I think it'll go well.

So here's a picture of me..not sucking in ..or anything....I tend to suck in even if I don't really need to..then you can see my ribs and I look like I have a problem...but my stomach is clearly not where I want it to be..so here is my accountability photo. This. will. change. stat.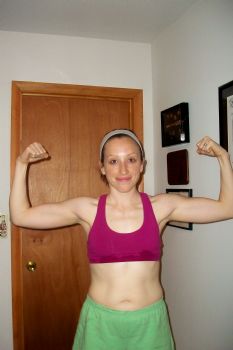 don't mind the sweat ..I just killed it working out.
Here is one of my legs..I took the other day because I was wanting to see progress in them don't mind the scowl...I wasn't taking glamour shots.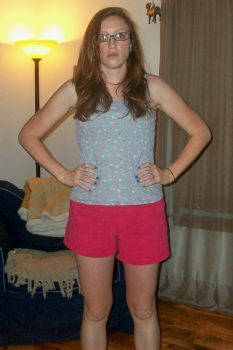 and here's one for the fun of it..