This is my celebratory, end of Spring challenge, Muppetacular vlog! I love non-scale victories with a passion, so I set non-scale goals, along with the relentless scale goal. This gives me more challenges, more to learn and more to celebrate.
First, the crunchy number stats: My Spring goal was to lose 8 lbs. I lost 7.5. Pretty darn close, so I'm happy with that. My BMI went down 1.44. I lost 1 1/2 inches from my waist and 1/2 inch from my thighs. I went from Obese to Overweight on the Wii Fit scale. My total weight loss is 42.2 lbs. Woo to the HOO.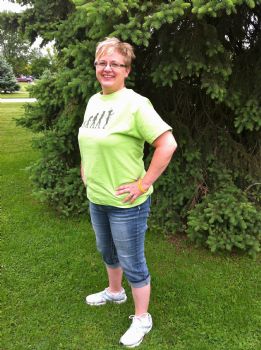 And now to the fun stuff. I challenged myself to learn the three-beat weave with my mini hoops. This is a pretty tricky move, but I really wanted to learn it. I've shown y'all some of the process. I promised myself that when I learned this, I would choreograph a routine to "The Rainbow Connection" and vlog it. "Rainbow Connection" is in three/four time, so it's perfect for the three-beat weave. Plus, it's the Muppets, so it's awesome. Did I mention that I love the Muppets? Have you seen pics of our hoopatorium? Yes. And I've always been able to relate to this song; I KNOW what Kermit is talking about. So, I re-taped my dayglow green mini hoops (making them even Kermier), bought a new tee, found the perfect pair of Muppety socks, and practiced, practiced, practiced.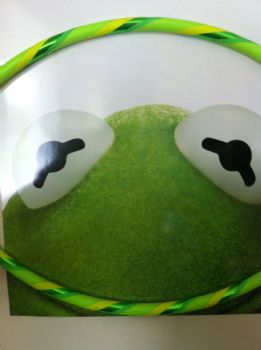 Listening to Kermit every day, gave me a lot of time to think about the Muppets. I started thinking about which muppets I most closely related to--Sesame Street and Muppet Show. (Look, we're talking half an hour or more of practicing this song, for several weeks. That's a lot of time to think...) I settled on a combo of Ernie/Grover from Sesame Street and Fozzie/Scooter from Muppet Show. Then I asked my family about their Muppets. Audrey chose a fusion of Big Bird, with a dash of Miss Piggy. My almost 18 yo son laughed and said he had to go with Cookie Monster. Accurate. Hubs sighed and confessed to Oscar the Grouch and Statler/Waldorf (the old, heckler guys in the balcony). You know how opposites attract? True. So, I'm curious. Who's your Muppet? I'd really like to know. I'm weird like that.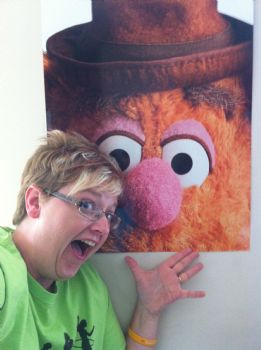 Wocka, wocka, wocka!
SparkBuddies are giving me links for Muppet personality tests. Gotta love it! I took this one and ended up as Fozzie.
www.blogthings.com/themu
ppetpersonalitytest/