Today's official time: 41:17!! I'm impressed with myself, since I've only been back in training for a month, and I only did the whole 3 miles a few times and never running all the way. Well, today I ran the whole way! The weather was perfect... cloudy, 61 degrees, even a light sprinkle of rain near the end. It was really just a good run for me today all around, and plus, I have an awesome running playlist that I usually only listen to on race days. :) And during the middle, thinking about how I was just into my stride and running and feeling good, I just had to start praying and thanking God for all he's done with me and the way he created me. Running is just such an amazing thing and it makes me feel so close to my Creator.
I used annoying intervalists to motivate me to get through that first mile pretty fast. Intervalist is my name for those people who run a bit, then walk, run a bit more, then walk, and the whole time they are passing you, then being in your way, then passing you, and so on. If you are one of those people, it's fine, I just don't want to be by you! :) I got by a couple groups of those and left them far behind!
I also decided to try and pass a few of the ladies around who were running somewhat my speed, which I did! Then came the awful, steep, about 40 feet long hill going under an overpass. I knew it would be miserable, so I decided I'l just sprint up and and get it over with! It was a rush! But then I had to go pretty slow after I made it to the top, but I managed. :)
That caught me up with another lady, and it was somewhere in the last half, and we basically raced each other the rest of the time. She thought she'd be able to pass me on another hill, since that's when people usually slow down, you know, but I took longer strides! We finally made it to the water stop, and I should have just skipped it... it was in the last half mile. But I didn't, and then that other lady was just right up with me, and she was sprinting, and I was sprinting, and in the last few seconds, she pulled ahead and I let her, I really thought I would die.
BUT... it turns out she started before me... according to the official time, I actually beat her by 10 seconds!! HAHAHA!!!! She thought she won, but she didn't!! I think the little competition probably helped both of us to get better times, so really, I guess we are both winners. But I'm a 10 second faster winner. lol
I was a little disappointed in myself that I didn't do the 10k like I did last year... that was my last race, and after it was over, I was pretty good for a while, then steadily went downhill... so now I'm trying to lose back the 20 something pounds I gained and get myself back into better shape. But I already decided next year I will do the 10k again. That will seem a lot easier after I do the half in December!!
BEFORE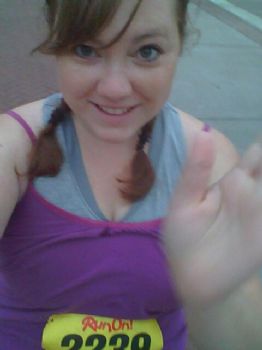 AFTER (l0l)