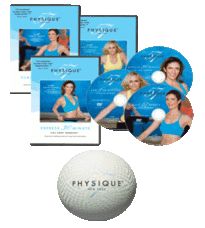 ... I have had this workout for quite awhile. I actually started with the Fluidity barre and dvds, but I didn't like the workout... sold the dvd's, kept the barre. Heard about PS57 and really loved the workout. Anyway, since I haven't done any strength training lately I decided to ease my way back into it with "body weight" only exercises.... "NOT!!!!!!"

.
I decided to do the 30 minute express workout and it was really tough, but I didn't quit. The workout starts out with a brief, but tough warm-up, Tanya starts a warm-up with push-ups, "who does that?"... then side planks and full-body planks. Next was the thigh/lower body workout using the playground ball, or not, placed between your thighs and squeezed the whole time you are squatting up and down, pulsing all while standing on your toes with heels together...

... yeah!... outer thigh exercises are included and last are abs. Very unique exercises and of course challenging.

The music in this workout was great... very motivating.
Overall I really like this workout and plan to do more of them along with adding
some pilates reformer/mat work.
AM Workout: PS57 30 minute express full-body
Exercise time: 36 mins
Calories: 250 / 35% fat burned
PM Workout: PS57 Arms and abs
Exercise time: 33 mins
Calories: 169 / 40% fat burned
Total calories: 419
~ Dee