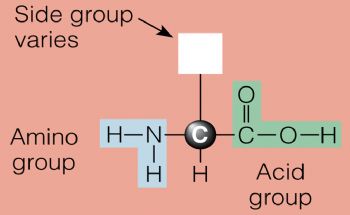 Image of amino acid structure
Proteins are important for our health and although our bodies can produce some of the amino acids (the building blocks of protein) we need, it can only produce about half of them. The rest (the essential amino acids) we need to get from our food.
In addition to making us feel fuller longer, protein has many important functions.
IMPORTANT FUNCTIONS OF PROTEINS:
Growth & maintenance of body tissues.
Enzymes facilitate needed chemical reactions
Hormones - regulate body processes. Some hormones are proteins and some are made from amino acids.
Antibodies - proteins form the immune system molecules that fight disease.
Fluid & electrolyte balance.
Acid-base balance.
Energy.
Transportation.
Blood clotting.
Structural components.
HOW MUCH PROTEIN IS ENOUGH?
RDA (Recommended Dietary Allowance)
0.8 g/kg/day
10% - 35% of energy intake
A person weighing 60 kilos needs 48 g of protein per day. ( 60 * .8 = 48)
(or about 0.36 grams of protein per pound that we weigh).
A person weighing 132 pounds needs 47.5 g of protein per day. (132 * .36 = 47.5)
High quality proteins contain all the essential amino acids. These are obtained from meat, fish poultry, milk, cheese, eggs, milk and many soybean products.
This article talks about how vegans can get enough protein:
www.vrg.org/nutrition/pr
otein.htm
Book resources for vegans coauthored by a Registered Dietition
www.nutrispeak.com/
DON'T SKIMP ON THE PROTEIN!!!