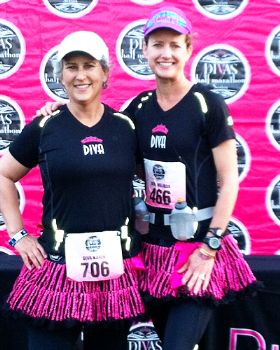 PRE-RACE PHOTO
I ran my 2nd half marathon last Sunday. There are more ahead for me; I'm hooked. The Diva wasn't my perfect half, those honors belong to the Big Sur Half which I did last fall and hope to keep as a fall tradition (we've already made our hotel arrangements for this year!). From what I've heard, Big Sur may always be my fave half. It's on a lot of runners' bucket lists.
Not that this was a bad race. No injuries to note and minimal soreness all things considered afterwards, too.
I had hoped to break the 2 and a half hour mark, and instead my time basically matched my last/first half.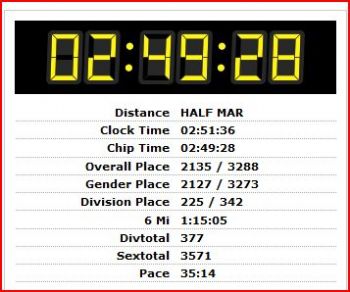 My Big Sur time was 2:41. The Diva race did not take into account the long lines at all their potties, so mentally I've knocked off 5 minutes for my Diva finish to reflect that. Making my Diva time 2:44. Pretty darned close to Big Sur albeit behind.
That took some pondering on my part, especially since I was really hoping to break 2:30 which clearly wasn't my reality.
Another reality was I gained about 20 pounds between Big Sur and April 19th. Well, if ya gain weight that will impact your running time and your joy of running. The latter of which I was well aware. I knew that my weight was sucking some of the fun out. Glad that April 19th I started getting my act together and eating really well to nourish my body and treat it better than I had been. I dropped 8 pounds between April 18 and my race.
So the race worked pretty well. I wore my hydration which was such a good plan because one of their hydration stands ran out. I carried 20 oz of water with me, and I had them refill it at two or three water stations because it was hot out there. So I ran a "greener" race and had water when I needed it. I had 2 Gu's and took them on time.
By the last 2 miles, it was hard. My 6 minute run/1 minute walk was kind of gone. I could feel my pulse in my eyeballs and I didn't like it. My vision tried to go blurry, not like I was fainting, but my heart was just working so darned hard.
Thinking through the finishing time, I read that every pound lost shortens your mile pace by 2 seconds. Assuming the reverse is true, if you factor in my weight gain from the first race, my time for this race is indeed faster at least from an endurance perspective. Hope you can follow that logic; it's a mix of math and wishful thinking. I figure if my times bascially matched with the 2nd race me weighing more, then my conditioning was better. And a lighter me will run faster, too, that's the plan.
What I learned:
I don't like running long distances in the heat. Good to know!
I like well-organized races which means I'll need to be talking to my friends more to find out their favorites. Social engagement is good.
Running in a tutu is much more fun and not dopey. It did make folks smile and the fact that my friend and I were matchy added to the charm.
My friend's husband drove us to and from the race. He didn't watch which meant he was able to just swoop in with the car right as we were leaving the event -- so so sweet to not have to walk a mile to the car post-race. Love having a sherpa/chauffeur!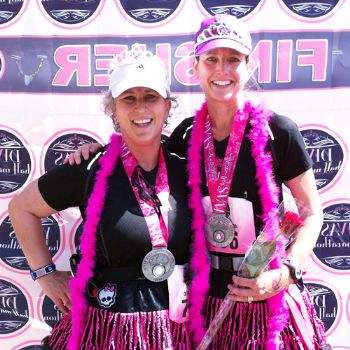 POST-RACE PHOTO