Friday, May 11, 2012
Well I am now 23 weeks pregnant! I finally feel like I have energy again. Which is awesome. I have been able to do my workouts in the morning again. This is way better for my schedule.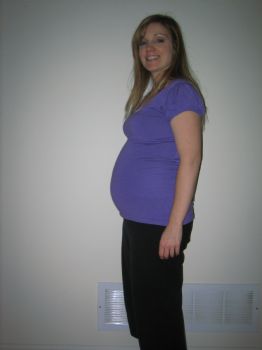 This is me at almost 22 weeks. I actually have popped a bit more since then but haven't taken a picture. At least people are saying my belly is bigger this week. hahaha
I have been eating fairly well...I am having some treats but trying to stick to eating healthy 80% of the time.
My back is now beginning to hurt when sleeping at night. Need to get a massage or something. hehehe
I actually feel funnier walking now. I am not used to having a belly at all. Usually if I gained weight I got wider. So having a belly stick out in front of me is very new.
All in all I am loving being pregnant right now. The second trimester is far better then the first!