My favorite quote! My Baseball son loves it too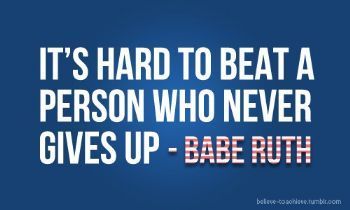 This week seemed long to me... Not sure why. I am still stuffy and fighting a cold or sinus infection. I am being stubborn and have not gone back to the doctor. Maybe I will schedule an appointment next week.
I am getting the biggest Mother's Day present I have ever gotten. A Motoactv by Motorola. I am happy cause it has GPS, Heart rate monitor (with a chest strap), MP3 and so many more fun features. I can't wait to see how many steps I take at work. Since starting my more active job I read some articles on spark that I may need to increase my calories. When I ate over once I found I lost weight. I added a few calories to my tracker. Once I wear my toy at work and count my steps there is an article on spark that tells how many calories to add. It always feels strange to add calories to lose weight.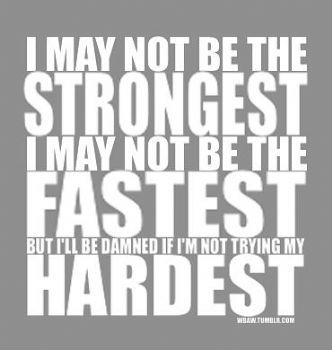 Update on my goals for May
May 2012 Goals
Exercise 2500+ minutes ---
I am at 689 minutes so this seems doable
Run/Walk 3 times a week ---
I am only running 2x this week. I am still congested and running has been hard. I am taking it slow and using more walk breaks. I will run today.
Take one active rest day per week ---
Done Sunday
Do Strength Training 4-5 times a week --
So Far done everyday except 1 so I am on track
Eat 6-7 Freggies a day --
No problems here....love veggies!
One day per week allow myself to go over calories by 100 or so. Just to reset my metabolism--
DONE
Try a New Type of Exercise In May---
I played a new game on XBox Kinnect to have fun and exercise.
My favorite running quote below. I love it this week because I have to run slow due to congestion. I will remember that the speed does not matter!