Thursday, May 10, 2012
Last December, 3 of my friends invited me to run the Flying Pig Half Marathon with them on May 6. I decided not to do it because I had never ran over 3 miles and was sure that I needed more than 5 months to be ready. A few days later I came across Katie's blog
www.runsforcookies.com
and got the motivation I needed to go for it. She walked half marathons at the same weight I anticipated I would be, so if nothing else I figured I could do that, too.
I followed Hal Higdon's Half Marathon Novice 1 Training Schedule and was able to complete every. single. run. This was not easy... I work full time and am a single mom to a 4 year old so I had to get creative with my runs. I am so grateful to the friends who were able to help me out and watch my son while I ran!
I was able to run 3/4 of the race and finished in 3 hrs, 5 mins (a 14:11 pace). There were some pretty big hils that slowed me down and I gladly walked up them. I'm very happy about these results for my first half and plan to do my next one in September! Until I start training again, I am going to continue working on my pace.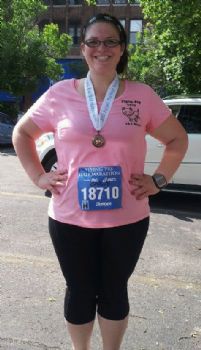 If you're interested in photos from the race and details of my training, I keep a more detailed blog at www.carlyshrinks.com