Tuesday, May 08, 2012
The weights area at the gym on a Tuesday night, that it. The men leave the benches everywhere, and when I try to move it to where it is supposed to be, I have to get people to shuffle (in between sets, of course!) so I can fit. I will fit, so I see no point in waiting around for benches where there are plenty, they are just stacked up against the wall.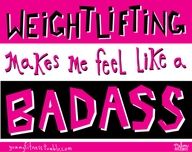 I ran through my new weights program today, from start to finish with no breaks. Whew, am I gonna hurt tomorrow! The worst (best!) moves are the Arnie chair press and the walking lunges. My butt and back are already sore, tomorrow is gonna be interesting! I enjoyed the lower reps at a higher weight, and am glad I requested this program.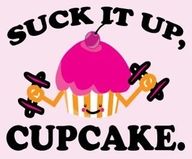 Additionally, 6 weeks ago I could only do 5 skull crushers at a time with a 5kg bar (no weight). Tonight I did 3 sets of 10 with a 10kg bar and weight (10kg total). Colour me proud :D