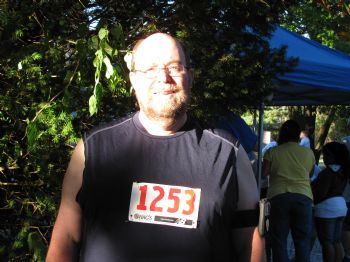 That's me, September 26, 2010, right before I ran in my first 5K. If you want to know more about that day I wrote a blog entitled "What I Learned Going Up the Hill." I was very proud, happy, emotional, yes all of those things, when I crossed the finish line. It was a major accomplishment in my life. I had only began running four months earlier. I was not the quickest and I'll have to tell you my form was not the greatest. Purists shook their heads a bit because I have to run with music in my ears. I can't keep a pace without it, lol. But I did it!!! I ran my very first 5K and I was on top of the world.
A month later I ran in another with my son and new daughter-in-law. You wont see any pictures, lol. That's the race where I tripped on an expansion joint in a bridge and according to witnesses, took an amazing and spectacular fall. In the process I banged my right knee up pretty bad. For the next month, even walking was a challenge for. My skin was scraped pretty bad. My trainer looked at my wound and proclaimed "Now we know you're a runner."
I rebounded, though. In February of 2011 I ran for the third time.
It was thirty seven degrees Fahrenheit at race time and I have never been that cold before or since. I thought of quitting at least a dozen times but I didn't. I made it.
A few months later I injured my back and legs in a fall leaving my back yard. It's been a long road back. I am at the point where I can walk comfortably for a half mile every day. Between us friends, I even jogged about twenty feet the other day. I found out I'm not quite there yet. I became depressed during that period of time. It seemed as if every movement produced pain. Honestly, I just had one huge pity party for myself on a daily basis. "Poor, John!!!!"
Thanks to the inspiration of three Spark friends I crawled out of my pity pot and gave myself a large kick in the posterior for good measure. I don't make it a habit of naming people for two reasons: I might leave someone out and I may embarrass someone. I am going to make an exception here. These are the kind of people you want to hang around with!! These are folks who will lift you up!!!
GIRANIMAL suffers from fibromialga, chronic back pain due to disk issues and a host of food allergies; yet every morning she hops on her bike and pedals through the labyrinth that is Chicago traffic. She does this rain, shine or snow. You never hear her cry or complain. BTW: She has been at her goal weight for some time now.
PRINCESSNURSE was a runner who was exposed to a type of hepatitis virus. Better safe than sorry she went through the painful treatment which produced a lot of nasty side effects. She continued running through the painful treatments. I had a habit of writing peoples names on a sheet of paper when I ran in a 5K. They were the people who for one reason or another weren't physically capable of running. A few months ago PRINCESSNURSE sent me a Goodie. It simply said "I ran with your name in my pocket this weekend." I have to tell you I got really choked up. She's been featured in some publications and has been at goal weight for some time.
MSSUNBUGG lost 145 pounds and developed an exercise program that has led her to participating in triathalons. She has gone through all sorts of physical and emotional challenges but hung in there to reach many of her goals. She has been so very kind to me. She will answer any Spark Mails I send her and you can tell she genuinely cares about other people. She has never given up despite the obstacles in her path. Recently she became a certified life coach.
There are more, many more, that help me make it through the soreness and pain. I'll run again someday. I don't have the date circled on the calender. I know my body will let me know. It will say "It's time John!!!" I'll be ready, through patience, perseverance and the inspiration of folks like you.