Day 5
Monday, May 07, 2012
This is only my second blog entry but day five of using Spark People
For the first five days I have concentrated on the food. Today is water and walking day. I have put it off for five days (and weeks since I have said I need to get out walking and just haven't done it).
Today I also did a motivational poster as suggested by Spark People.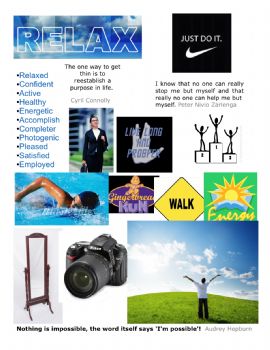 I'll let you know how my walk goes and if I get the 8 glasses of water in. I generally come close, but some days are better than others. If I get two in while I am walking, that will be good. I think I can get two with lunch and two with dinner and I only will have 2 left.
Edited to add: Did two laps around the lake in my subdivision (well large pond). Uh need to do that at 7am and not 10:30...it was hot as blazes. Got my legs all stretched out and it took some effort but didn't kill me. I probably could have done a third lap but didn't want to over do it in the heat. I will try to get the walk in early in the morning tomorrow and increase to three.
I will try to do 2 laps this afternoon while my boys are at swim team practice...there is a park right there perfect for walking.
Did drink 2 glasses of water while I walked.