Today was the day I was supposed to be awesome. Today was the day of my second full marathon. It was my day to say, "Oh, yeah. I can run 26.2 miles – no problem!" I've trained hard, and I've trained well. There was no reason I shouldn't have been able to do. But sometimes, things just don't go as planned.
My training started at the beginning of the year. My friend, Erin, and I would get up in the wee hours on Saturday or Sunday, and run in the dark and the cold. We would run for miles at a time. We would have frost on our hair. As the days got longer, our runs got longer. 20+ miles at a time. Rain or shine, we were on the road.
Erin ran her race a week before I ran mine. She ran her first marathon in Louisville, Kentucky. She was awesome!!
Today was MY day to be awesome. The Flying Pig Marathon was MINE – all mine!! Really. I worked hard, and I was going to claim it!
We drove to Cincinnati. I went to the race expo last night. I picked up my packet, and I was ready to race.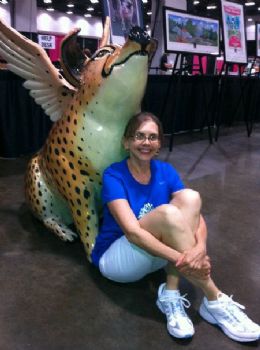 Let's back up 12 years. A horrible bicycle accident resulted in a shoulder replacement. August 13, 2000. Unfortunately for me, my surgeon was a total hack. He purposely operated on my shoulder, knowing he was doing wrong. He had no idea what he was doing, and he removed two of my muscles – my pectoralis major, and my supraspinatus. He installed a titanium shoulder that was too big for me, and it was always out of the socket. Nobody could fix me at that point, because the doctor had removed my muscles. In 2006, I found a doctor who would at least put in a shoulder that fit me, and he tried his best to get my muscle "stumps" (wording from the surgical report) and "residual tissue" to attach to other things to hold my shoulder in place. It held for about a year, and then it was the same old thing – shoulder always out of socket. Did I mention I had no range of motion? I could not lift my (dominate) right arm. Not at all. I couldn't even reach up to touch my ear with my right arm. I won't go into the problems it caused. In 2009, I fell and rebroke it. Yet another replacement surgery. This time they did what was called a reverse shoulder. It reversed the position of the ball and socket, and allowed the deltoid to do the lifting. This surgery was a "last chance" replacement. My doctor said they don't like to install it in anyone under 75 years old, unless they have a history of failed replacements. It's for very inactive people. I am not inactive. The slightest fall could cause it to dislocate, and that would require yet another surgery. My last surgery did not go well, I ended up with bacterial and fungal infections, and my skin fell off my face. I am not going through another surgery. If I need another surgery before 5 years has passed with this one, I will not hesitate to ask them to remove my arm. Everyone says that's wrong, but it's not. Until you've lived with an arm that doesn't cooperate, then don't judge the decision.
Anyway… Back to this past week. When I drove to Louisville last weekend to cheer for Erin, I stressed my arm. It's been sore and painful. I knew it did not bode well for my run this morning. I wore my sling two days this week, hoping it would rest my arm enough that it wouldn't cause problems.
This morning… We all got up at 4:30, and we drove to the race. I realized I'd forgotten my race bib (the number with the timing chip in it). My family drove back to get it, and they dropped it off to me. 10 minutes to spare. Whew!! That was cutting it close. I ran to the start line and got in my corral. I decided early on that I was going to hang with the pace group to finish under 5 hours. I had trained for that, and I could do it easily. I was sure of it.
We took off, and things were going great. Mile 6 or so, up hill for probably 3 miles, my arm started hurting. Sometimes my arm hurts on long runs, and I hold on to the bottom of my race skirt to keep my arm from moving. I had to slow my pace and let the pace group go on ahead of me. That was okay. I would still finish under 5 hours. The half marathoners split off at mile 9, and when I turned right with the full marathoners, a wave of emotion hit me. I was proud! But my arm was hurting, I knew I was having trouble. I thought I would be okay. I wasn't. Mile 12, I passed a medical tent. I stopped to see if they had a splint. They splinted me, and I was still going to try, but my arm was really painful by that time. I took off running again, and I was on the phone with my husband, blubbering and boo hooing about how the arm was screwing up my race. He didn't want me to mess up my arm. He said it wasn't worth it, and I needed to stop. I knew he was right, but I couldn't bring myself to do it.
Two policemen saw me. They knew I was in trouble. When they asked me how I was doing, I just stopped and pulled over into a convenience store parking lot. I sat on the curb and cried. I mean, I bawled and sobbed uncontrollably. Not from the pain, but from the fact that I knew I couldn't go on without totally messing up my arm. They got me back to the medical tent. I was done. 13 miles. I couldn't continue the next 13. There was no way.
The medical tent people got me a ride back to the main medical tent. While I sat and waited for my ride, I had it in my head that maybe I could run/walk the final miles. But by that time I'd gone back a mile. It would have given me 2 additional miles. My arm? No. It wouldn't do it at all. I waited for the ride to the main tent. A physical therapist worked on my arm for a while. It felt nice. But it still hurts now. I need to go to the doctor and get it checked. I'm sure it's not out of place, but I need to check the hardware.
When I was done in the medical tent, they attached an ice bag to my shoulder, and they sent me out to my family. I had to walk behind the finish line, with all the people coming across the line hugging each other and shouting, "We did it!!" I was still crying. I didn't do it. I was walking with the awesome people who had medals around their necks – people who persevered through 26.2 miles. I was walking with a sling and a big bag of ice, and no medal.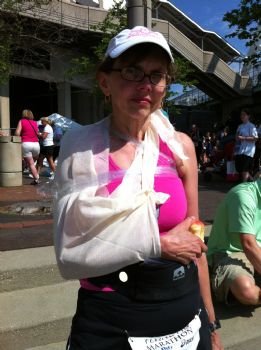 But I listened to my body. I am not super human. I have limitations. That's okay. Yes, I am disappointed, and today I am very angry with my original surgeon who purposely removed my muscles for no reason. I am still a blubbering mess when I think of my disappointment with the race. I trained hard and well, and I should have had it. Sometimes, though, we've just got to step back and be okay with what we've done. There will be other races, and I will do well with them. As a matter of fact, I have another full marathon scheduled for June 9th. I don't know if my arm will do it. I may have to cut back to the half marathon. That's okay, too.
Today I ran 13 miles, and the Flying Pig got the best of me physically. Next year I'll get the best of the Flying Pig.
** EDIT: To be clear, this was not my first marathon, but it was important because I was fully trained for this one, unlike my first one. My shoulder pain turned out to be a torn muscle that had happened two months prior on a canoe trip. If I'd known, I would have continued. I just couldn't take the chance of messing up my shoulder replacement.