Sunday, May 06, 2012
Triple play day. Too bad I was sick and had to leave work before midnight Friday night (5/4). Went home, emptied out my med box, and tried to watch TV (couldn't track the shows) and read (couldn't track the stories). Sheesh! Dosed off & on, until time to actually sleep - - took 2 benadryls and slept thru the day. I took advantage of not eating, and got my fasting labs drawn when I got to work (packed 2 meals - one to eat right away, and one for o' dark huncred in the middle of the night).
Anyway - Cinco de Mayo - celebrated more here in the States than in the actual Hispanic countries.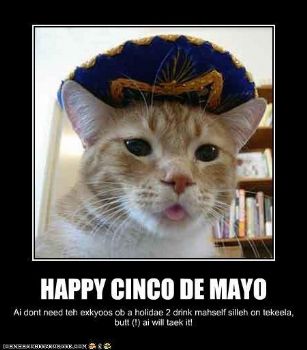 The full moon is at the nearest point to the Earth tonight for this year. Supposed to be some 15% brighter (altho hard to tell with the naked eye). Tides will be a little higher. I managed to look outside the break room window - gorgeous!
Derby day - I almost forgot about it until I read the paper. "I'll Have Another" (who comes up with these names?) won. OK. Good for him.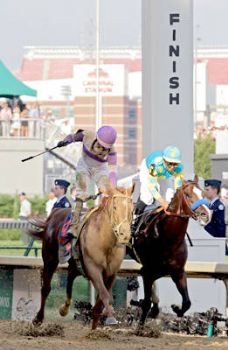 (light colored horse)
Hope everyone has a great weekend!