I've mentioned the Double Trouble Duo in several posts lately. Those posts have gotten me asked several times what is "double trouble duo"? Well, let me explain it to ya'll
First off there's Miss Molly Mae (she's the little black one that looks like a living teddy bear)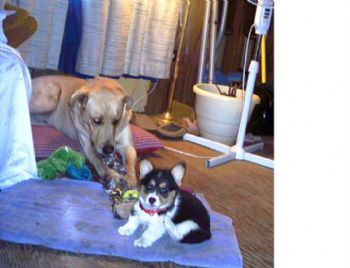 She was 6 weeks old in this picture, the day after I got her. She was welcomed by her big brother Jasper the lab/husky mix who passed on this last November.
Molly is a Pembroke Welsh Corgi, tri-color. You know those tail-less doggies with bat like ears. What people don't seem to know is corgi's are cattle herding dogs. Their little short legs let them get in close to the cattle without the cows kicking them in the head. And smart omg are they smart as can be.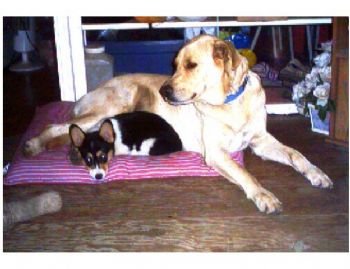 Molly and her big brother Jasper(boy I miss him)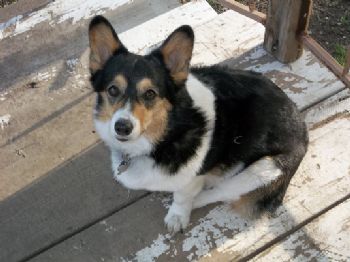 Molly now, 4 yrs old
Back in November Molly's big brother Jasper tore up a hind leg to the point surgery wouldn't help him and he had to be put down. Molly just wasn't the same after Jasper was gone. She would just lay around and whimper, she wouldn't even play. After a few weeks I began to worry about her and decided it was time to get Molly a playmate, as the only time she perked up was when she was around another dog.
So that brings us to Ranger.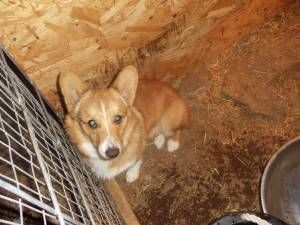 This was the little pin his old owners kept him in.....barely 3ft by 3ft.
He was a 1 yr old. He had never been housebroken as he had always been an outside dog.....he was always kept in that pin. His collar was so tight it had to be cut off him. I say I rescued him, as he really was in a pitiful place when I found him.....I call it herding dog torture chamber....or doggy prison.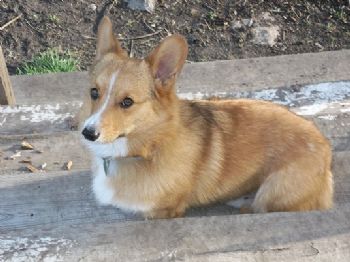 Ranger Now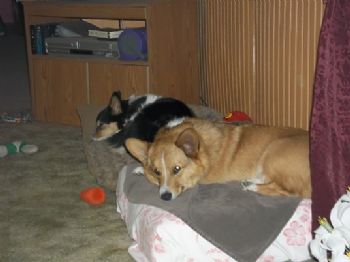 I brought him home, gave him a bath and started to work on housebreaking him. It only took 3 days to housebreak him and he seemed to really like those cushy things called beds.
Now, Molly and Ranger are inseparable.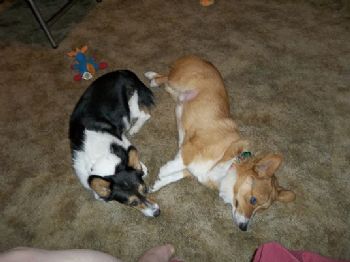 They are always getting into something together.....
And they are now my walking buddies, who love to beat me to the door. Did someone say it was time for a walk?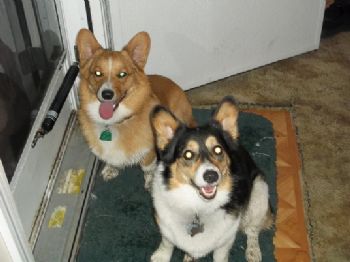 So since they get that look in their eyes like they're up to something, and I started telling them they were double trouble, I have dub'd them the double trouble duo. So when I mention the "Double Tr0uble Duo", you all now know who I'm talking about.