Happy Cinco de Mayo! I'm just back from a party and feeling pretty darn good that I kept my eating in check. Had a few appetizers, a moderate portion of my low cal casserole (recipe follows) and no dessert until I got home and then I had some warm applesauce topped with FF whip and a little cinnamon. Oh... and I had two small margaritas.. guessing may 8 oz total. All in all not bad!
I wanted to share my Mexican Casserole recipe with you. Not only is it easy to make but it is delicious and keeps well in the fridge. You can also freeze if you want. It makes six generous servings so I typically will portion them out in individual serving dishes so I can easily reheat in the microwave. Good for lunch or dinner.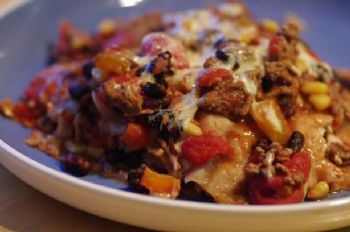 1 lb extra lean ground beef (drained or rinsed!)
I substitutued 3 chopped black bean burgers and it was great.
1/2 cup onion (chopped)
1/4 cup canned jalapeno slices, chopped
2 cups fresh tomatoes, chopped (or 15 oz can diced canned tomatoes)
1 (15 ounce) can kernel corn (drained)
1 (15 ounce) can black beans (rinsed and drained)
1 (1 1/4 ounce) package taco seasoning mix
8 corn tortillas
3/4 cup nonfat sour cream
1/3 cup reduced-fat Mexican cheese blend, shredded
1/3 bunch fresh cilantro, chopped, to taste (or less (or more)
Directions:
1
Brown ground beef and chopped onions in large skillet; brown 10 to 12 minutes or until thoroughly cooked, stirring constantly. Drain well and rinse with warm water to remove all fat; return beef/onions to skillet.
2
Add corn, black beans, tomatoes, chilies/jalapenos and taco seasoning mix; mix well. Reduce heat; simmer 5 minutes.
3
Meanwhile spray 12x8-inch (2-quart) baking dish with nonstick cooking spray. Cut each tortilla in eighths; place 1/2 of the tortillas in bottom of sprayed baking dish, overlapping slightly.
4
Spoon half of beef mixture evenly over tortillas. Spoon sour cream over beef mixture; spread evenly. Top with remaining tortilla pieces and remaining beef mixture. (Cover tightly with foil & Freeze for later OR cook as directed below…).
5
(Thaw overnight if frozen) Heat oven to 350ºF. Bake at 350ºF for 25 minutes. Remove from oven; sprinkle with cheese. Cover; let stand 5 minutes or until cheese is melted. Sprinkle with chopped cilantro and serve with fresh chopped lettuce, tomatoes, salsa, black olives, etc… /.
6
Makes 6 large Servings at 6.5 weight watcher pts/each.
If you are on Pinterest.. I have the recipe pinned and you can re-pin to your board.
pinterest.com/pin/164240
717631001694/
Enjoy!!