Saturday, May 05, 2012
I was out in the sun for the majority of the day. First at my daughter's soccer game, although I did go get a beach umbrella and a chair, and then for a couple of hours at an outdoor fair. It seems like I always manage to get one massive sunburn per year; I know better, but it happens anyway. I've been known to slather sunblock on my kids, and forget myself. This time at least I had a hat, so my face didn't get scorched, but you can see why I will NOT lay in a tanning bed.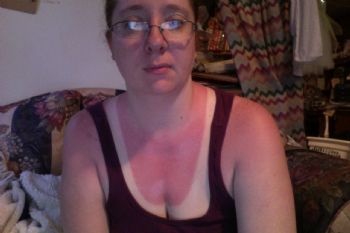 Thank goodness for a husband with gentle hands, and gobs of aloe vera lotion.