Iím here to profess my love.
I am head over heels, out of the ballpark, shoot for the moon, over the rainbow in loveÖwith my new Polar FT60 Heart Rate Monitor!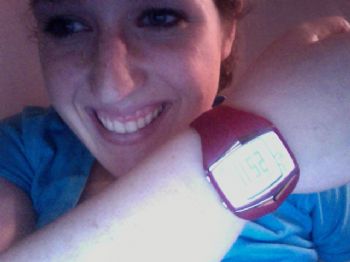 Yes. I said it I am in love with my new heart rate monitor. Now it may seem premature since I have only had it for 2 days but I can already tell the difference.
Want to know why itís amazing!?
1.) It creates a work out program based on your goals!
2.) Tracks calories burned, miles, heart rate, speed, EVERYTHING
3.) Itís so pretty and in my favorite color!
4.) The actual chest strap is super comfy!
So lets start with number 1. Creating the program.
You can choose what your goal is. Obviously mine is to lose weight. So I input my stats and bleep bloop bleep it created a program for me.
Which is when I began to panic a littleÖ
They said I need to train for 7 hours and 10 mins a week! GAH! Iíve been working only 5 hours a week.
Then it said I need to burn 3150 calories per week! WHAT? Oh no how am I going to do that?
Well hereís the thingÖI needed to change up my workouts.
Before I would work sooo hard and burn myself out so there was no way I could push myself the next day. So I had to change my goals.
Instead of pushing pushing pushing I needed to stay in the heart rate levels 1 or 2. Because I am staying consistent I am actually working out harder than I have before without overdoing it or feeling like I am going to die.
2.) It tracks everything! Donít believe what the machine youíre using says youíve burned. Itís just a guess but not necessarily accurate. Now I know for sure how hard Iím working and how much I need to push myself.
3.) Isnít it CUTE!?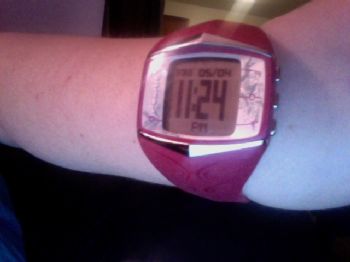 4.) I honestly canít even feel the chest monitor so donít worry about that.
Lessons learned from the HRMÖ.
Number 1. SWEAT. I have NEVER sweat this much in my life. I am considering only wearing black to they gym because itís nasty.
Number 2Ö. Sometimes itís frustrating not getting in the right range but it really makes you work harder or understand when you might be working too hard.
So my suggestionÖ
Get one! If you havenít invested in a HRM seriouslyÖ. SERIOUSLY get one. They are expensive I understand believe meÖas a poor college student I know. But it is an investment and I know that it will be worth it in the end. Ps- get it on amazon. it's like 30 bucks cheaper than on the polar site. :)
Let me know if you have any questions!

Yea I don't know what this chick is doing but I can probably do it now that I have a heart rate monitor :)