We have a bird in the birdhouse!!!
Friday, May 04, 2012
My husband built these bird houses last year and we hung them on the maple tree....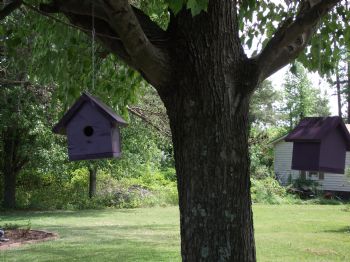 When we were leaving Wednesday morning to go to the Wells Fargo golf championship in Charlotte and we saw a wren sitting on the peg in the front. When we got home I peeked inside and saw 4 little eggs in there!!! I can't wait until they hatch - I just love watching the birds take care of their babies! But I learned not to get too close to it though - that mama is very protective!!! LOL!