Friday, May 04, 2012
If you have 5 minutes to spare, or even if you don't... you NEED to watch this video on YouTube!
From the video's description: "Arthur Boorman was a disabled veteran of the Gulf War for 15 years, and was told by his doctors that he would never be able to walk on his own, ever again."
Arthur Boorman proved those doctors wrong.
youtu.be/qX9FSZJu448
Being given the diagnosis of Probable Multipe Sclerosis in early 2011 almost took me down. I spent a year feeling sorry for myself and taking a mental and spiritual beating. But I found hope in the Lord and I found the help I needed in SparkPeople... and I have faith that I can be healthy.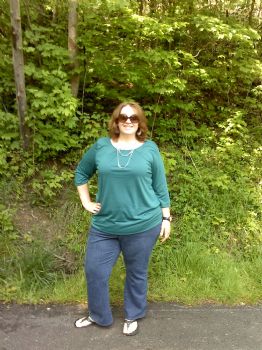 This is me after losing 15.5 pounds since I found this place, and I know that if people like Arthur can do this, I can do it too. This is me now, but it's not me forever. I can't wait until what's on the outside matches the hope and determination that's on the inside.
Arthur's story inspires me to keep going and to
NEVER
GIVE
UP
Last week's weigh-in was discouraging to me for about a minute... I didn't lose any weight. But I didn't gain any either. I know that's expected sometimes, but in the past that's what has given me the "excuse" to give up. I always gave up because it's too hard. But now thanks to SparkPeople and people like Arthur, I realize this is a difficult journey, but I'm ready to stick it out.
God bless you all. Please share Arthur's video if you are able.