Friday, May 04, 2012
I started the Spring into Shape bootcamp Challenge this week. This is the first time I have done one of these challenges. I have my exercise routine and I am pretty satisfied with it. I have been reasonably successful. It has taken me a little over 3 years but I am down 89 pounds from my high weight of 272 pounds. I have gone from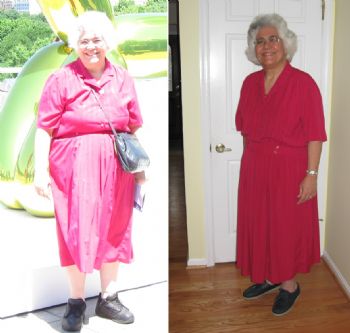 That is me wearing the same dress in 2008 and last November,
Today this is me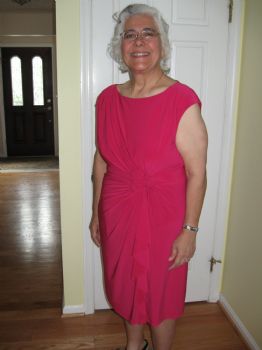 Obviously I have a new dress

For the last several months I have been exercising around 2000 minutes a month. My typical routine is to do 90 minutes of ST three times a week and do at least 30 minutes of cardio 6 days a week. With the nice weather I have been doing most of the cardio as yard work and easily exceed the 2000 minutes. Well this week I added the bootcamp videos to my regular program. Like all formerly obese people I have a lot of excess flab in my hip region and I wanted to see if the exercise would whittle it away. To be honest I am not fond of doing floor exercises. I find the floor hard and unforgiving on my 60+ year old knees and back. But I want a flat tum. I want to look good in my clothes. So on to the challenge. I have gotten through 6 out of the 7 videos. I do better with some than others. Pilates is not my friend. One could say that Pilates hates my guts and the feeling is mutual. I have done them and I will continue to do them. Maybe by week 4 I will actually have a nodding acquaintance with the Pilates. The remarkable thing about this week was I have also jacked up my cardio. Yesterday I took not one but 2 vigorous walks. I walked a total of 5.5 miles. The walks were aerobic. I know because I was wearing my new toy a Polar f7 heart rate monitor. I am strong! I am powerful! I am happy!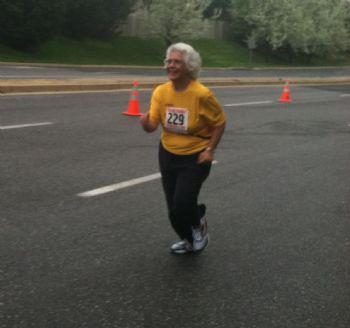 Me after running my first 5K race.