Thursday, May 03, 2012
Product:
iSS' Oh Yeah! Protein Wafer - Chocolate Peanut Butter
Ordered from:
www.Netrition.com
Price: $11.99 / box of 9 (plus $2.95 special packaging charge for temperature control)
Product Link/Nutritional Information:
www6.netrition.co
m/iss_oh_yeah_wafer_bars.html
Manufacturer's Description: A scrumptious creme filled wafer loaded with protein.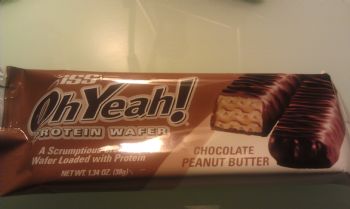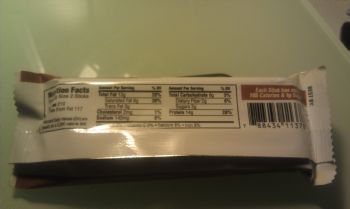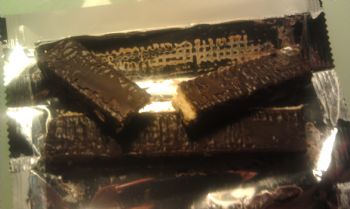 I ordered the Oh Yeah! Protein Wafers to have some little tasty snack I could grab as I'm heading out if I know I'm going to be out past a meal - or if I know I'm going to be somewhere that I'll be tempted to eat.
It is temperature sensitive so I had to get their special packaging which was an additional $2.95. It was basically a grid of water packs that were probably frozen inside an insulated wrapper with the box of wafers. The FedEx man didn't ring the bell when he dropped off the box so it sat outside and the chocolate did melt a bit. If you have issues with your delivery people just dropping stuff off and leaving, the special packaging won't last long at all in warmer weather. It was only about 70 degrees outside the day it was dropped off and the chocolate still melted as you can probably see in the above photo.
The individual package itself has two chocolate covered wafer sticks about the size of a Twix bar. The texture is more like a Kit Kat bar, though. It isn't as sweet as candy and the creme in it is a little bland. The wafer has a nice crunch to it and is palatable. The center really didn't taste like peanut butter to me but was more like biting into air. If you are looking for something really sweet to satisfy your sweet tooth, this is not for you. But if you want something that tastes like more than just cardboard and is super chewy, this will fit the bill. My favorite part of this was the fact that it wasn't so heavy and chewy. It was nice, light and fluffy.
Reorder Product?:

4/5
Value?:

2/5
Taste compared to other protein bars?:

5/5
Overall:

3.5/5