Thursday, May 03, 2012
Last month I sprained my ankle rather badly.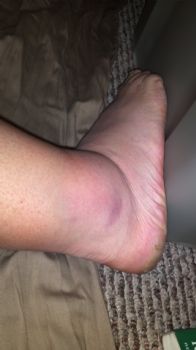 Disregard how badly I need a pedi. I had been struggling with some shooting pains recently so After a month I went to the doctor now I get to wear an air cast and have to take it easy...a bit frustrating, not certain if I will be able to do the half marathon on the 19th. I'm frustrated it is taking so long to heal. I know it needs time. I guess the positive to it, it makes me focus on the disciplines I can do, like swimming and biking and strength training. I thought my running would be coming along at this point while I am faster, I can't go farther at this point. I feel edgy about this but I am managing, I will come back better from this injury I will be stronger at my other disciplines and stronger in general from the strenght training.