Hey there,
It's been a while since my last blog I've just been soooooo busy lately!!!!
My husband (who's in the army) has been gone for a month now, and will be coming back in 10 days (and Yes before you ask, I count them). Even though he's not on tour, this time it's been pretty ruff, we have two kids now, a 4 year old and a 4 month old. Plus tons of things were happening!!! My husband had a small accident with my car (which ended up being declared totaled by the insurance company) so I had to shop and buy a new car, Yup on my own (((c: that was a nice experience, I never shoped for a car by myself before so that was a nice and liberating experience(btw I picked it up last friday and I love it) but I can't wait for my husband to see it!!! Also it was my 4 year old birthday last week, I needed to make things extra special for him especially because he misses his dad a lot and that he was pretty upset that daddy couldn't come home for his birthday, so we had a little party with our family, and last saturday I invited all of his daycare buddy to McDonald's and then we went to an indoor amusement center for kids.. They had ton of fun!!!
So now that the busiest time appears to me behind me, the next 10 days should be smooth sailling (Well, I hope so).
Which brings me to my blog's title! No one other than my husband and a co-worker (the only person other than my husband who knew I was on SP) told me that they could tell I lost weight I was at 20 pounds gone and no one told me... I wasn't discouraged but I thought that it had to show that I lost 20 pounds... I couldn't believe no one noticed..
Well, when I was throwing a party for my 4 year old my mother told me: ''Hey you're melting!!!'' My smile probably said it all because my sisters both told me the same thing right after.. they told me that they could tell that I've been loosing weight for a while now but they didn't want to say anything to offend me! WOUHOU!!! Then I met one of my friend a few days later who told me that I should go shopping for new jeans because mine are falling off (then she asked me what diet I was doing because she's also intrested in loosing weight). And an other few days later, I saw my grand-mother (who I've seen the last time before I joined SP so she noticed right away)!!! So, everyone's noticing and I've shared my results so far and my goal with all of them! So that keeps me motivated and accountable!!!
So now, because my jeans are falling off and I had a ''not so busy day'' today, I went shopping! When I started SP I used to wear size 20 jeans, then they got loose but I had a couple of old size 18 jeans which I was wearing until now... So logically I picked up a couple of size 16 from the rack... Then I got in the dressing room, took them off their hanger and looked at them! I though to myself, there's no way in H*** that I'll fit into these, the thighs are wayyyy to small.. but since I only picked up size 16 I tried them on anyway!!! And guess what, they fit perfectly and comfortably!!! WOUHOU So I'm officially 2 jean size smaller now YAY!!! I only bought a pair because they're not that tight so I though to myself that I might be moving to a size 14 sooner than I think!!!
I only have one regret.. I never took before picture, and now I'm starting to wonder if I should have taken some!!! But I took before and after picture of my jeans qc: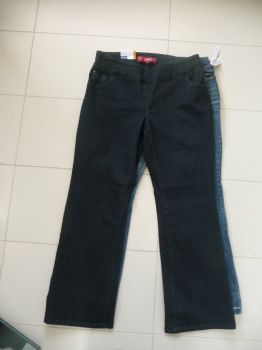 This is my new size 16 with my old size 18 (sorry the size 20 jeans are already in the garbage) (c:
Have a great day!!!