Wednesday, May 02, 2012
Hi Sparkles!
Never in my adult life have I seen a number like this:
So, now what??
May is a new month- and I LOVE a new start... I even like Mondays

While I have decided to keep losing 5 pounds at a time, I'm trying to slow down a bit. I'm really enjoying having more calories to work with (I had a SANDWICH on TWO pieces of BREAD yesterday- GASP!), but I am honestly a little uncomfortable with this wiggle room (and nervous that I will gain weight for the first time). Exacerbating this feeling is my having a cold this week. I took a long walk today, but was basically comatose Sunday and Monday... We'll just have to wait and see, won't we?
In May, I'm going to:
- keep tracking. If it aint broke, ya know? I really don't mind tracking, I love planning because it makes me feel very in control of weight loss.
-keep walking and hiking. I like it and won't quit.
-learn to deal with maintenance. Never been there before EVER, but excited to see what it is all about.
-keep eating stuff like this: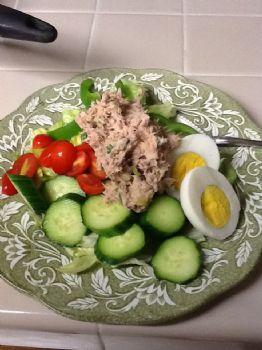 because it makes me feel good.
Love and luck to all my Sparkpeeps in this new shiny month!