Backing up for a minute, I had a great time with fellow Sparkers at Just a Short Run. Lots of dining and a little wining, followed by a personal best in the half marathon distance: 1:49:59!!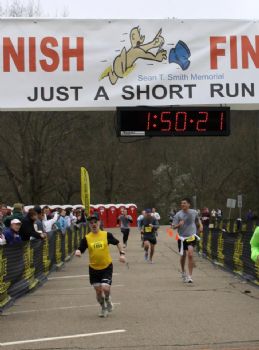 DW (AKA Darling Wife) and I had a great time with our Spark visitors: Tammy from Louisiana and Gail from Nova Scotia. Tammy enjoyed her first NHL game and Gail said that she was more excited than at Christmas since Christmas comes every year and this was only her second NHL game and featured local boy Sidney Crosby. Here we are outside Consol Arena.
I continued training throughout April in preparation for the Pittsburgh half marathon this coming Sunday. I ran my last long run. 8 miles, on Saturday. Training went well and I remained injury free throughout.
After the half I am planning a century (100 mile) ride at the end of June with Sparker BOBBYD31 . I'll be riding for Team Red as part of Tour De Cure. The Tour De Cure races happen nationally with all money going to Diabetes research. Bobby and I rode 44 miles Sunday afternoon. Still, so far so good...
So I'm home from biking, the shoes are off. I start to climb the carpeted stairs from out first to second floor. I slipped climbing the first
stair in my stocking feet (damned slippery compression socks!) and hit
the ceramic tile with my toes curled under my foot. Hit hard enough to
cut the big toe on the tile and bruise the end of it.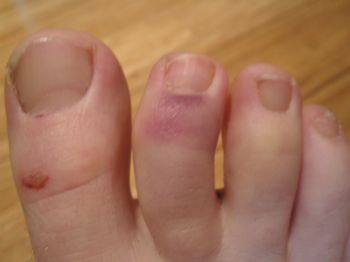 Well, the good news is my 2nd toe is not broken. The bad news is that
it is sprained/bruised/swollen. By this morning it was more bruised and swollen than in the picture. The doctor is skeptical that I will be running my half on it on Sunday.
I have other ideas. I am working on a 30 minutes cardio exercise a day streak for 2012. I went for a slow 30 minute walk last night and walked over 3.5 miles today. I plan a test run Thursday and assuming there are no issues I plan to lace them up for 13.1 on Sunday, after taping the second toe to the little piggy next to it and dropping some Advil. There will no PR hunt for me but I fully intend to get my bling.
Wish me luck....