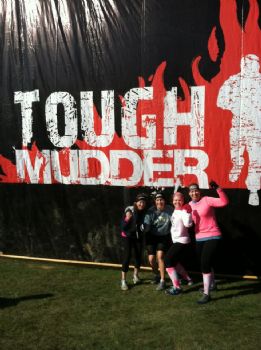 Hoo-rah! I finished my Tough Mudder. It went something like this:
Get to the site and try not to throw up. Check in, get numbers on forehead and arms, and hang with team until GO TIME!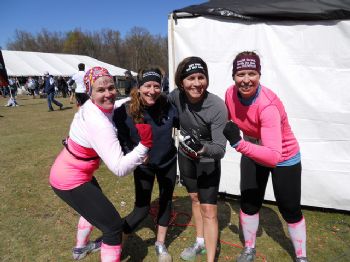 (That's me on the left.)
Hang with mom for a little while - try to ignore the comments of "I heard this was really dangerous!"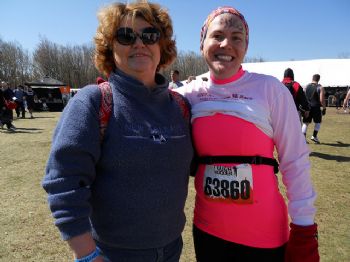 Time to go! There was a freaking obstacle to get INTO the starting area.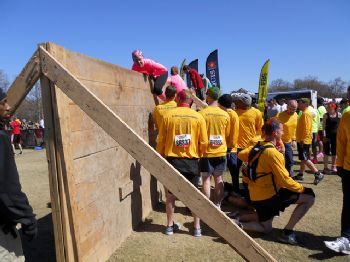 (That's me on top of the wall. The guys in yellow helped me over. About six miles into the Mudder, I had to go over two more walls, except those were 12 feet high. And then around mile 8, I had to do it again.)
Army crawl through mud and rocks under barbed wire, get HUGE bruise on thigh. (I think I'll spare you the pictures of my bruises - maybe that will be another blog.)
Jump in a Dumpster full of ice water. Swim through ice water under a wall and pull yourself up and out of the Dumpster. At this point, my mom and her friend saw us and asked "is it horrible?" YES. Yes, mom, it IS horrible.
Run three miles through woods. And mud. And over loose rocks. And up and down mountains. And then up a ski slope.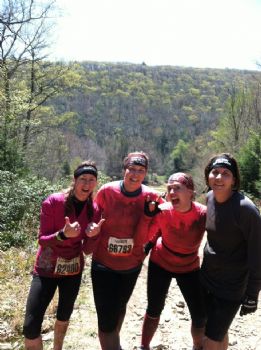 (This was us, still looking kind of fresh! And there was a sign that said "if this was a Warrior Dash, you'd be done by now." Piece of cake.)
Run some more.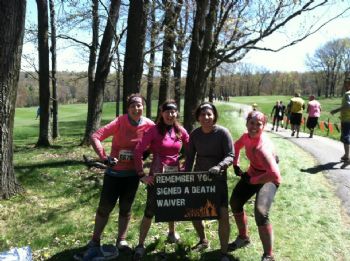 Crawl up some wood and jump off a platform into a lake. A freezing cold lake.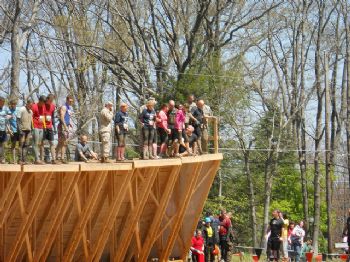 (I'm the pink one on the left.)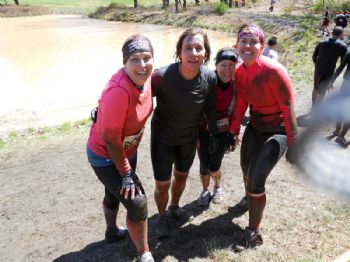 This was right after we all got out of the lake. We were yelling at my mom because we were getting so cold standing there and just wanted to get going. But I'm really glad we stopped, because I love this picture!
At some point between mile 8 and 12, we had to run UP a half pipe. And pray that someone at the top would grab you! I made it on the third time. I have a nice big rip in my shirt, and I will wear it with pride.
More running.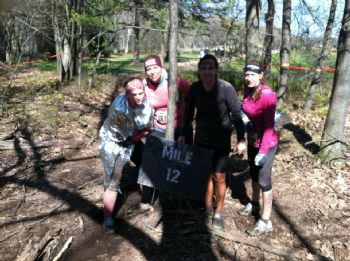 At mile 12, we were miserable. I don't remember much of what happened toward the end - it was brutal.
FINISH! Earn the beer and the orange headband!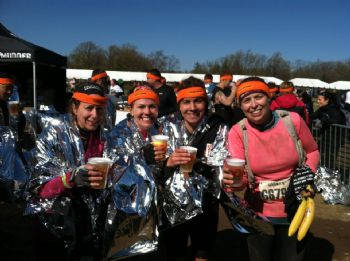 Would I do it again? I sure would! The teamwork was amazing. I could not have done it without my awesome team. And I can't even begin to describe how it felt to have so many strangers helping me! I stood on shoulders, got hauled up a half pipe, got carried down from a wall (or two)... it gave me a little faith in humanity - that people want to help other people.
This is one of those experiences I will never ever forget. That orange headband and these memories are going to stay with me forever. I can't believe that only three years ago I celebrated being able to run a half mile without stopping. And now? I'm a freaking TOUGH MUDDER. Excuse me while I bask in my awesomeness for a little while longer.