Don't get me wrong, I may blog again later to sum up my day, but I wanted to do something while i had my morning tea (chai this morning to warm up - it's so cold!).
I had to take out the recycling and got distracted by my front garden. It's looking so pretty, and hardly anything is actually blooming right now!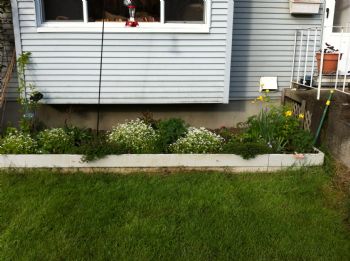 This is the wide view of my front flower bed. The reason I took the picture? The drifts of sweet woodruff in bloom. Prettiest little flowers, lovely mounds of greenery, I've been captivated by them since I first read about them.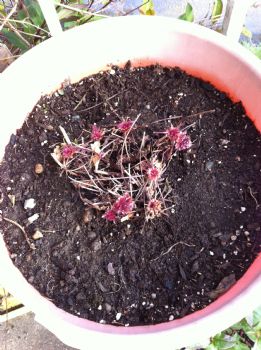 Coral Bells (Heurchera) Dolce Licorice on it's way to recovery. I moved it to where the deer can't reach it. watered it with some of the water when hubby cleaned out his fish tank, and voila! Hoping I don't lose it.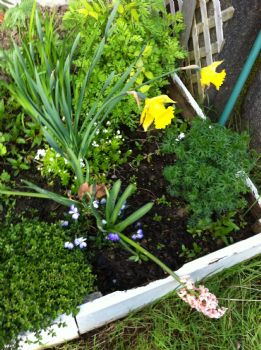 The Hyacinths fell down, but the violas are really starting to go crazy! I also never realized what long bloomers daffodils are... another reason for me to love them!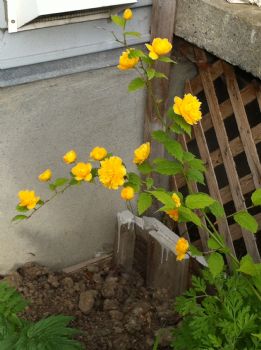 And the piece de resistance! My Kerria (Kerria japonica "Pleniflora")
Hard to believe that when I got this 2 (or 3?) years ago, it was 6 inches tall and only had one pompom on it! I love the colour of the flower, I love the graceful arc of the stems, I love the leaves which almost look like a rose leaf (just not in 5 parts). And on a cold May Day, I love how it makes me feel inside to know that I've nurtured that scrawny little plantling into a lovely plant.
Anyway, going to finish my tea and take the dog for a walk. Will have my smoothie when i come back - hopefully it won't make me feel hypothermic by then!