Short version of this story is in the video. The longer version:
In July, 1999, I went to a family reunion in Castroville, TX. The reunion was held at a church there, and on their grounds was a swingset . At the time, I loved swings and always took the opportunity to get on one whenever I could. That day was no different. I got on one of the swings and took off, swinging high and fast.
Then, one of the chains of my swing popped. It had rusted through near the top of the chain, too high up for me to see. It popped while I was rushing backwards toward the ground. I was leaning back, so I was rammed head-first into the ground. I blacked out for a few moments.
Other than a twisted C2 vertebrae - undiscovered until I saw my chiropractor for the first time three years later - the only thing I suffered from the incident was an instant fear of swings. Since that day in 1999, I have not gotten back on one. I've been way too terrified. If that chain could pop when I was a tiny, 130-lb athletic girl, I could not trust another chain to hold me when I weighed a whole lot more! Only in the last year or so did I decide that this was a fear I really wanted to conquer one day.
This past weekend, Jason and Laurence went camping. Morrigan and Ambrose stayed home with me. Sunday morning, I took them to the playground at our local branch of the library. We were the only ones there, and those swings...they called to me. I had planned to wait until I was closer to goal weight to try to conquer this fear, but something told me that it was time. So I gathered up my courage and got on the swing.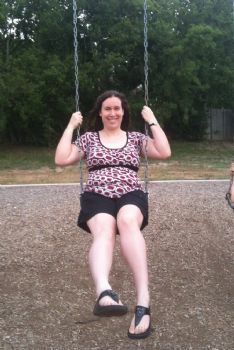 Morrigan ran over to take pictures and a video. My boys all know why I avoid swings, and they knew what a momentous occasion this was for me. I didn't go very high, or very fast, but I stayed on that swing for a good five minutes, and smiled the whole time despite my terror.
I did it. I'm still leery of swings, but I hope that eventually I can get to where I can use them without fear, and then to where I can enjoy them again. I want to recapture that childhood love.