A recap of my morning: I joined the Official Spring Into Shape Bootcamp Challenge this morning when I woke up and logged in to SP. I'm finding myself in need of changing up my workout routine. It's getting a little boring, a little monotonous. Also, living in Arizona, it's starting to be hot as a muthah when I'm free to run or hike. I had to find a little something to do indoors when the weather is unbearable.
I went to Kohl's this morning to buy some new workout gear. Though it shouldn't really matter, I'm starting to dislike looking all baggy when I'm out running. But it's hard finding shorts (I don't like running pants) that aren't daisy dukes and won't get 'crack stuck' or ride up my inner thighs when I'm running. It's sort of awkward to pull at your outfit while there's lots of traffic and/or you're trying to stay focused on your workout.
I bought a FILA skirt/short thing that was on sale for $16.20, so you can't even tell if it does happen, haha. It fits well at the waist and shows off my thighs in a flattering way. Plus it has a hidden pocket for my iPod - BONUS!
Sports bras, oh, sports bras. It's hard to find a comfortable one that doesn't make me flat as a board. Don't get me wrong. I don't want the girls to smack me in the chin while I'm jogging, but I still like to feel feminine. I actually found a style I really like by a brand called Tek Gear. On sale for $13.99 each, plus I had a 20% off coupon for my entire purchase. Yep, this girl RARELY pays full price for clothes!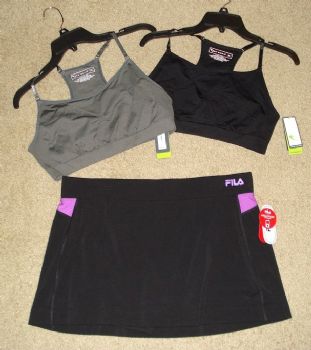 Then I headed out to Target to buy resistance bands to start the Spring Challenge. Light? Medium? Heavy? Not a clue! I split the difference and went with medium. $10.49. Purchased.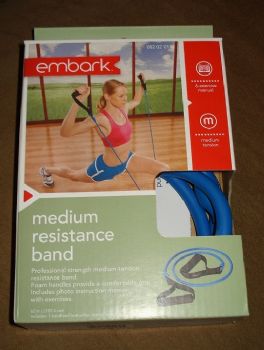 So I got back home all amped to do the first Challenge video. A few minutes in, it was time for 30 seconds of jumping jacks. First jump. Uh oh. You guessed it. Pants on the ground. Well, technically, it was shorts. Silly girl. I had on a pair of old athletic shorts. Well, not for long, haha. Not one to stop a workout, I sorta kicked them off and finished in my undies. This is why I don't work out at a gym, LoL.
I may not be graceful. I may not be bashful. But I'll be darned if someone tells me I'm not determined.
Have a beautiful Sunday, my SparkleLovelies!