Picture time again and clothes fit that haven't in ages.
Sunday, April 29, 2012
I've been taking pictures of myself about every three weeks since I started, although the first picture was a couple weeks into losing the weight. I like being able to see the progress. It's amazing what a 25 pound difference looks like.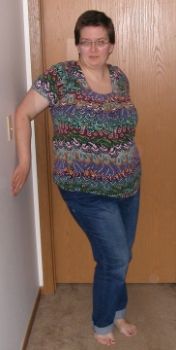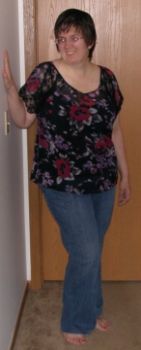 The first picture here is the first body shot I took when starting this journey, the second one is from today.
Today I was able to put on pants I haven't worn since before I had my second baby, more than 5 years ago. The shirt I'm wearing I bought recently, but it was tight at the time and I needed help taking it off, darn fabric. Today It's loose and flowing around my middle.
I've lost several inches around everything! 3 inches in places, half an inch in others, but it's a consistent loss everywhere! I'm glad I've been able to measure to see the progress.
What I've lost: shortness of breath when walking short distances. Back fat that kept me up. Hips and ankles that hurt constantly (now it's just a sporadic hurt). Lower back pain. Tiredness. The ability to wear my "fat pants".
I love being able to see the progress, even if you never publish your pictures, you should take full body pictures to see the progress on your own. It really helps to see where I've come from and it's a constant reminder of why I don't want to go back. I know I can't see the progress in the mirror, but I can see it in pictures. It's a snapshot of that point in time, the mind just doesn't work the same as a picture.