Weigh In
02/24/12: 129.4
03/02/12: 128.3
03/12/12: 127.9
04/01/12: 131.4
04/09/12: 128.2
04/20/12: 128.4
04/27/12: 129.0
I almost didnít step on the scale today. It is that week of the month when my good buddy TOM (hear the sarcasm?) wrecks havoc on my appetite & I get a bit of a bloat going on. What's worse is this is the worst day of the entire month. But, I stepped on it anyway because I know come next Friday it will be waaaay down. I expect Iíll be seeing something very close to 127.0 by then.
Now, excuse me while I have diarrhea of the keyboard. Iím in quite a strange mood today. I feel as if I could talk someoneís ear offÖbut there is no one here to talk to. Iím all alone at work; except for Mr Owner-man. Heís here but heís on the other side of this big building & I wonít have to talk but a couple of sentences to him today on the phone, thank goodness.
Regular Show
Those of you with kids ages 7ish-13ish, have you seen this completely idiotic show on Cartoon Network? The characters are so stupid. How stupid are they? They make Spongebob & Patrick look smart.
Hubby & son have been watching it for several weeks. When it is on, I donít pay attention because their voices & the language they use are that of teenagers or young adults who act like they donít have a brain, which drives me crazy. BUT, hubby & son are laughing about it all the time & telling jokes that I donít get. Sooooo, I broke down & watched an episode. Since then Iíve seen a couple more & Iím looking forward to seeing ones I havenít seen yet.
Dude, do me a solid (thatís how they talk). Donít get me wrong, this show is completely stupid but that is what is so funny about it. The characters do stupid things that we, as normal people, would never even think of.
I almost feel guilty for wasting your time discussing such a stupid topic. That is how stupid it is!
Why do I find it funny when Skips the white gorilla is doing meditation by a candle & Mordecai (I had to look up that spelling, does that mean Iím stupid?) & Rigby call his answering machine & chant over & over:
We know your home, Skips.
Pick up the phone, Skips.
We know your home, Skips.
Pick up the phone, Skips.
We know your home, Skips.
Pick up the phone, Skips.
Why does that crack me up? IT IS STUPIDÖand funny.
On to other stupidnessÖ
The 2012 NFL Draft
I bet you were all glued to your TVís last night watching the Draft. What? You missed it? For shame!
Well, let me fill you in. Usually, the teams take ALL of their allotted time (I think itís like 10 minutes) to announce their choice so the draft takes forever. However, this year they didnít do that. It was bam, bam, bam fast.
So, it gets to pick 8 which is the Miami Dolphins. This has been hubbyís team since he was a little boy. Why does he love them? I donít know. He is ALWAYS mad at them. They never do anything right whether it is draft day or game day. And they stink!
For the last several weeks hubby has been telling me they should pick this guy Tannehill. Hubby wants to know what I think.
I think that since he wants this guy theyíll pick someone else just to make him mad.
They always make him mad, why would this time be any different?
So, the Dolphins are on the clock & hubby is yelling at the TV things like ďDonít do anything stupidĒ ďTake TannehillĒ and ďIf you donít take Tennehill Iím never speaking to you againĒ. He actually said that. Who was that supposed to be directed to? The Dolphinís staff? Like heís EVER talked to them, LOL.
So, what did the Dolphins do? They picked Tannehill!
Hubby is hilarious! He said he was worried when the Commissioner was walking up to the podium to make the announcement because the look on his face said he was going to say something surprising. ????? The Commissioner has the same look no matter if heís trimming his toenails or opening Christmas presents. Hubby is so weird.
This morning, hubs was still on cloud 9. In the shower he was belting out songs he made up about Tannehill. Yep, heís a weirdo!
Then, tonight, he & son are going to a draft party. Donít YOU think the 2nd & 3rd rounds of the draft are worth throwing a party over? Well, the men in my family do. They are getting together & my aunt is getting kicked out of her house for the night. SO, us women folk are getting together for dinner. Weíve been making our plans through emails & my aunt attached this Little Rascals link: http://www.youtube.com/watch?v
=wBIC8JTQMMQ
Cracks me up!
Now, our men are by far women haters, but my mom & aunts do take a special secret trip every year that the men are not allowed to attend. Heck, even Iím not allowed. Iím just a daughter/niece & youíve got to be a sister. I know, not fair! But it is their rules. I think thatís why I find the clip so funny. He-Man Woman Haters, LOL!
I had a hard time deciding between naming this blog He-Man Woman Haters or Regular Show. Since everything in my life is pretty ridiculous Ė no, STUPID, I went with Regular Show, LOL.
Can I say one more thing? I shouldnít, but I'm going to. Iíve been biting my tongue for too long.
**I was feeling guilty about the ugly things I said here, so I deleted it!**
Ok, Iíll get off my soapbox now.
Oh, there is one more thing. I know I said that already but this really is the last one.
Boomer had is first good haircut yesterday. He looks sooooo cute. Here he is a few months ago. Since heís black, you canít see him very good but you can kind of see how scruffy & scraggily he was.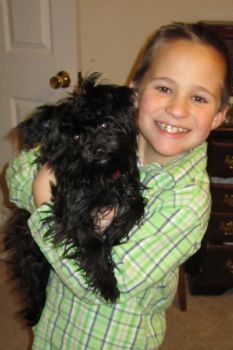 Here he is after his appt with the groomer: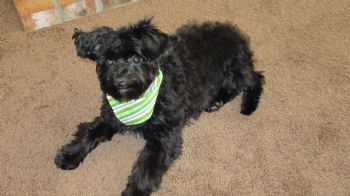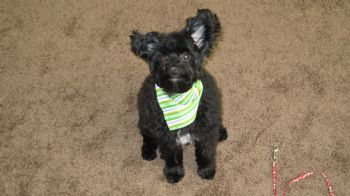 The camera flash kinda made his eye on the left look funky, but let me tell you, he looks so good. Much better than the hack job hubby & daughter gave him. I was afraid he'd come back looking silly or bald but he looks great. And he's still as ornery as ever.
Ok, I'm done! I know I put a bunch of stupid stuff in here & your probably thinking about me & my blog the same way I think of Mr Owner-man & his books, LOL. Shut up already!