Date: 4/22/12
Location: Lovell Canyon - Spring Mountains National Recreation Area, NV
Race Coordinator: Calico Racing
Event: Labor of Love 100M, 50M, 50K, Marathon, 1/2, & 10K
Start Time: 7:30am
My Distance: Half Marathon
Weather: 60-90°F; very dry (below 10% RH)
So, with one race under my belt, it was time to finish the second and final race. As I have recently learned, I was really running a "Double", not back-to-back races. Ah, semantics and technicalities...
Anyway, I was worried about Sunday's race, yet was at the same time less concerned or worried than I was on Saturday. After all, this was the last of the two races, so I could do whatever it took to finish without regard to the consequences. I could give everything I had, even if it meant walking or crawling to the finish. All I had to do was cross that finish line and I was done. That was the sole achievable goal that determined whether or not I was successful. I didn't care how I finished, as long as I finished. But, of course, I hoped that finish would at leave be under 2:30... My wife told me to make sure I at least broke 3 hours. I was sure that would easily happen, yet something in the back of my brain said "yeah, but what if..." She also told me to push myself and maybe I could run faster than the day before. I wasn't sure if I felt good enough to do that, but I decided to hold of on that decision until the race started. My final goal for the race was the run the entire hill (of doom). There was no reason to hold back, today.
So, anyway, after suffering from some poor pre-race decision-making on Saturday, I decided to make a few small changes on Sunday, primarily the amount of water I would drink. Saturday I had restricted my pre-race drinking and decided to rely mostly on my Camelbak during the race to ensure I wouldn't have to take a nature stop during the race. Considering that has never been a problem in any of my races - and I was sure that fatigue due to dehydration was an issue on Saturday - I decided to go back to my usual hydration plan and drink at least a liter of water before the race.
I was up at the same time and left at about the same time and got to the race course at about the same time. However, today was supposed to be 4-5 degrees warmer and that forecast looked to be pretty accurate.
I also ate the same food (banana, thin bagel, granola bar), however my stomach was not really liking me this morning and my mouth felt dry. I didn't really feel hungry and had to force myself to eat because I knew I would need the energy. That and the dry mouth felt like an early warning sign and helped keep me drinking through the morning.
A minute or two after the shuttle dropped me off at the race site, I used a port-a-pottie and then got out and put my Camelbak on. To my dismay, when I went to clip the chest strap, I found that the left half of it was missing. It had fallen off, somewhere! This was not good. Without the chest strap, it would be bouncing around all over the place during the race. This would not be good. I checked the ground, the port-a-pottie, and then the shuttle when it came back, but it was nowhere to be found. I finally had to improvise and use extra slack of cord hanging from the shoulder straps and tie them in a knot across my belly. It seemed to do the trick and actually may have felt a little better than the original chest strap, however, tt was very tight and seemed to restrict my breathing a little, but I knew that once I got going and drank a bit, the bladder would begin to empty and the strap would was loosen up. I also hoped that the knot wouldn't come undone during the race from only the jostling around. This could be bad...
I carried a bag of Peanut Butter M&M's in my Camelbak for the first race, but never took it out, partially because it's a pain to get to the pocket on the back of my Camelbak and I probably wouldn't ever stop to get it out unless it was a real emergency. Sunday, I got it out before the race and ate about half the bag and stuck the rest in my shorts pocket, and then I hoped it would bounce around too much during the race.
As usual, I hit the port-a-potties early and often. At least there were 10 right next to the start line and there were considerably fewer runners which meant no lines and I could go in and out as I pleased (which I did a few times as a nervous habit).
Finally, it was time to start. I didn't know at the time how many people were running, but when we lined up and the race photographer asked everyone to squish together for a pre-race photo, no one wanted to go to the front, so I ended up toeing the start line next to the eventual race winner.
When the race started, the guy next to me was off line a shot. I briefly entertained my pre-races thoughts of going all out and pushing myself hard to beat Saturday's time, but after less than a tenth of a mile (the length of the initial downhill before the 4.5 miles of uphill began) I decided that was just not going to happen and I slowed way down.
I wanted to run a slow, but comfortable pace that I could hold for most of the race. I figured I could run about an 11 min/mile pace and still beat 2:30. Also, this this was the final race, I was going to try to run the entire thing, regardless of hour tired I was, how slow I was, and how many people passed me. I then resigned myself to the fact that I was going to get passed by a lot of runners.
There ended up only being 36 runners in this race and a lot of them were also either slow, or tired from running the previous day. Some had run the half. Others, like the 60 year-old man I met in the shuttle, had run the marathon. I kept waiting for the mobs of runners to pass me after I slowed down, but after a quarter mile, it just wasn't happening and I was beginning to wonder if I was the only other person running or if I had started too early, or if they had called the other runners back.
Finally, after what seemed like an eternity (at least a half mile, or around 5 minutes), I started to get passed, but really slowly. Just one girl passed me. Then another. Then the man I met on the shuttle caught up to me and paced me. We chatted for the next mile about the location and the weather and about the possibilities for other races until we hit the aid station at mile 1.5. At this point I realized I hadn't hit my watch for the 1 mile split and realized that I had been so engrossed in conversation that we had completed passed the first mile marker without even noticing. Time sure goes by faster when you have someone to run with! At the 1.5 mile aid station he stopped to grab two cups of water (one for his mouth, one for his head). Then he caught up to me again, but ran on the other side of the road in his own zone and I in mine and we ran in silence. He stopped again at the aid station at mile 3 and fell back. Since he was an ultra runner and I only ran halves, I figured I would tire and he would eventually catch me. By this time, a few other runners had passed me, but not very many, and no one really seemed to be running that fast (except for the first guy).
Amazingly, at my slower pace, I actually felt better than I had the previous day. I wonder if the cold bath helped (despite not being an ice bath) and if my better hydration plan was also helping.
When I got to the water station at mile 4.5, I stopped to a walk for about 5 steps after I grabbed a cup of water and drank it. For whatever reason, my Powerade/water mix in my Camelbak seemed to be making my mouth feel dryer than usual (tho, it had been dry all morning). Maybe I should have only done my usual 1/3 Powerade-2/3 water instead of the 1/2 Powerade that I used. Anyway, I felt I needed some straight water and it seemed to help.
I had grabbed my bag of Peanut M&M's and ate a handful of them at the 3 mile mark. Going down the hill (of doom) I grabbed and ate another handful. I figured I would need the energy for the uphill to the turnaround point and then the return trip back up the hill (of doom). After I hate that handful, I hit the 5 mile mark and took a drink from my Camelbak. I then burped up some air and tasted a little bit of M&M's and stomach acid and decided my stomach was telling me again that it was extra sensitive today. That was the last I would eat of the M&M's for the rest of the day.
Once I passed the turnaround point, my sole focus was the hill (of doom). I was determined to conquer it, today. I knew that I had nearly done it the day before, but backed off to save myself for today. Now, I had nothing else to save myself for, so I planned to give it my all and make it up the hill. And then I knew once I was over the hill, there was 4.5 miles of nearly all downhill to the finish. So, this would be the last obstacle other than myself.
One slow step at a time, I climbed the hill. I passed the spot where I stopped to walk the day before and knew I wasn't too far from the summit. Up, up, up I climbed. Short quick steps the whole way. Finally, I hit the last straight-away where ascent eased and I knew I had done it. I hit the 4.5 mile aid station and just like that, I had crested the hill and was heading down the other side. The volunteer girl at the 4.5 mile aid station asked if I wanted anything and I motioned no, then she asked if I wanted Heed and crossed the road to hand me a cup, so I decided to go ahead and take it, even tho I didn't feel like I really I needed or wanted it. I made sure to thank her, anyway. I still took a few sips and then threw it away (yes, they provided strategically placed trash cans so we wouldn't throw our cups into the desert).
Heed tastes horrible, by the way. I had a half a cup before the race on Saturday and before the ET half marathon last August. I couldn't finish the cup either time. However, with 4.5 mile left, it didn't taste quite as bad. That probably meant I needed it.
A guy had passed me at the 7 mile mark, but then stopped for a break at the next aid station. He passed me again at about the 4 mile mark. I was definitely not going to keep up with him, but I did see another girl up ahead of him that I could possibly catch. I focused on her for the rest of the race.
I made sure that I didn't overdo it on the initial downhill, this time. It felt like I got overzealous on Saturday and took off with 4 miles to go only to run out of gas at mile 3. This race I tried to measure out my speed increases over the last 4 miles. I let gravity to the work for the first two mile and only then did I try to speed up some more with two miles to go to finally catch and pass the girl that was ahead of me.
I felt SO much better than I did on Saturday. I wasn't dying over the last 3 miles. I was in my right mind and able to remember to hit the split button on my watch at the proper time. I was taking drinks every half mile instead of every mile, but never got any side cramps.
With a mile left I slowly began to speed up until it hit the 13 mile mark just at the bottom of the ravine before the final little uphill to the finish. Then I turned on the jets.
I sprinted so fast up the last hill and over the finish line that I even surprised myself. I knew I had some energy for my final kick (I kick no matter how much energy I have), but being the end of my second race, I didn't know I had this much in me.
Apparently, no one else expected it, either. My wife was there cheering and taking pictures, but what was really cool was that I also got a lot of loud cheers from the *other* spectators as I sprinted up to the line. That was *really* cool. Still makes me smile just thinking about it. :)
The girls at the finish line clipped off my timing chip and gave me two medals: one for finishing this race (which was different from the one the day before, which was awesome), and second different one for having finished a race on both days (which was really awesome). So, I ended the weekend with three brand new finishing medals for my bulletin board at home.
I had done it! Two races in two days! And not only that, I had run the whole thing except for about 5 steps at the 4.5 mile aid station on the way out. I also conquered the hill (of doom). And I didn't feel all that horrible! Tired, yes, but I felt better than I had after Saturday's race. I guess that's what slower running and better hydration will do for you.
My wife gave me a big hug and a kiss (well, as big a hug as you can expect someone to give you when you're covered in sweat). What better way to finish a race than to hugs and kisses from your wife. :)
I drank a couple cups of chocolate milk and ate a brownie and a banana while walking around for a couple minutes. The race director kept telling everyone both before and after the races to stick around if they thought they might have won an award because they were really hard to mail (they were potted cacti with the award painted on the pot). I knew I wasn't the first guy to finish and there had been a few ahead of me who all looked my age, so since I knew I hadn't won any awards despite the small race size (only 36 runners) and we left.
Here are the splits for my race that I timed on my watch. There's no mile 1 split since I was distracted and forgot to hit my watch. It's definitely slower than the day before. Mile 8 includes the bottom of the hill (of doom) and the 9 mile split includes the steepest section of the hill (of doom) and the beginning of the final downhill. They are slower than the day before (except for the last mile!), even tho I walked on Saturday, but not at all on Sunday.
2 21:37 - 21:37.68
3 11:34 - 33:12.55
4 11:54 - 45:07.25
5 10:41 - 55:49.21
6 10:09 - 1:05:58
7 11:19 - 1:17:18
8 11:54 - 1:29:12
9 12:58 - 1:42:11
10 10:16 - 1:52.28
11 10:18 - 2:02:46
12 9:50 - 2:12:37
13 9:45 - 2:22:23
13.1 00:41 - 2:23:04
I forgot to stop my watch which I crossed the finish line on both days, so I had to estimate my finishing times until the official results came out. I estimated based on my 13 mile split and a photo that my wife took that my finishing time for the second day was somewhere between 2:23 and 2:24. I had easily beaten my goal time of 2:30 and was never in any danger of finishing over 3 hours. And on top of that, I felt great! I almost felt like I could run again on Monday! Okay, maybe not, but I felt like I could do anything. What's next? A full marathon? A 50 miler? Bring it on!
Much to my surprise, on Tuesday when the results were posted, they showed my time as 2:21:00. That made no sense at all as my 13 mile split that I took on my watch showed as 2:22:23.
Usually I would just sit on this information and let it be. However, I decided to e-mail the race director to see if this was final results, or if they were still under review and present my stats. From the 3 Calico Racing events I had done, Joyce, the race director, seemed like a nice lady who was passionate about her job and very fun and approachable and as these weren't massive events, I felt like it was reasonable to e-mail her just to ask. I let her know how much I enjoyed the events and that I knew timing issues do happen and then laid out my evidence. I just hoped she wouldn't be annoyed that some runner was nitpicking and complaining about the timing being off.
Again, to my surprise, she replied within a couple of hours with a very nice reply about how they knew there was an issue with the timing and that they had somehow lost 2 minutes and 3 seconds somewhere after the first few finishers, but that they weren't able to pinpoint it. But, with my evidence, they were able to figure out where the time was lost and update our times and actually thanked me for sending my e-mail and being honest about my time being slower.
She then also let me know that I had won my age group!
Whaaa??!!
Well, technically, I was second place in my age group. However, when they give out the age group awards, anybody who is in the top three overall finishers is not eligible for an age group award. So, since the guy who finished first in our age group was also the 2nd male finisher, that bumped me up from 2nd in our age group to 1st!
Wooo!!! I won an award! That is a first.
Now I'm a little bummed that we left so quickly and didn't stick around to hear them call my name and accept the award. That doesn't happen very often. But, I'm not really bummed because I won my age group. :)
So here are the official final results:
I finished just under my goal time with an official time of 2:23:04.
I finished 12 out 36 runners.
I finished 1 out of 3 runners in my age group (M30-39)! (technically 2 out of 4, but these are the official results.) :)
Yesterday, I signed up for Half Fanatics. I am now a level 4 (Jupiter) Half Fanatic #2269!
What's next? the Devil Dash and Running with the Devil Half Marathon, that's what! Woo!
My missing chest strap solution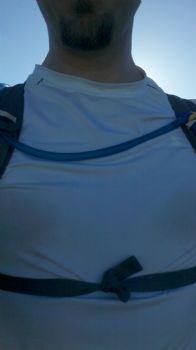 2 minutes to go time - and the hardest working race director in Las Vegas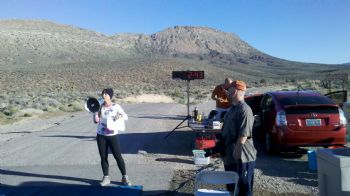 Finish, leave nothing!
Finished!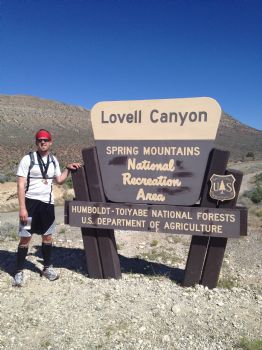 Race medals