I am breaking my blog silence for the first time in 2 years now (according to the date of my last blog, lol.) So here we go…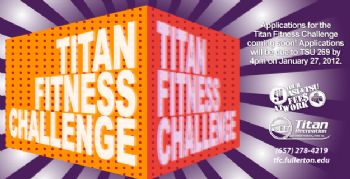 The beginning of this spring semester I noticed posters on my campus advertising for The Titan Fitness Challenge. It sounded really neat, and something that I needed desperately to help me start the New Year off on a high, considering I had fallen off the wagon once again. Darn you Christmas cookies!!! I went to the website to look more into this challenge and found out it was a full blown contest. It was my Universities version of the Biggest Loser, only instead of only focusing on weight loss, it was a program designed to help with physical and emotional health. Best of all it included all things available on my campus anyway for free or minimal costs thanks to my tution. So might as well take advantage right ?lol. I came to find out thatThe Titan Fitness Challenge ( in it's 3rd year) was a 10 week program that goes throughout the entire semester and the winner would be chosen based on BMI, Nutrition, Flexibility, Laps ran in 12 mins., Number of pushups completed without rest, and Number of sit ups in 30 seconds. During the challenge contestants would be paired with a personal trainer and a workout group, and work out 3 times a week, then eventually 2 and then only 1, so that learning how to exercise on your own would be easy after everything is said and done. Contestants would also were paired with a nutrionist for weekly weigh ins, set your calorie intake and to learn healthy eating habits, as well as a psych counselor that would hold mandatory group sessions that would discuss issues with weight and habits like binge eating ( guilty!) and understanding body image issues and how to overcome them.
After reading all that I was excited and scared all at the same time. I knew I was the perfect contestant that they could mold and work their magic on, but at the same time I was scared and intimidated. I never worked out in a gym, yet alone with other people, or a trainer for that matter and it was all so overwhelming. Especially seeing all the appointments I would have to commit to throughout the challenge including all of the nutrition workshops, counseling sessions, workout sessions, and weigh-ins ON TOP of my full time student load. But then I realized, there are many others who work, have children, spouses, and many other commitments then I do and still manage. I am fortunate enough to be JUST a full time student, and have nothing better to do lol. So, I filled out the application like 3 times, and I submitted it and shortly after I was contacted to come in for an interview. It was not your typical one on one interview; I walked into a boardroom style room with literally 6 people in there to conduct the interview. Each person was from different segment of the Student Association that was putting on the "reality weight loss challenge". I was so nervous, but I just told my story, and let that be that. They were very thoughtful with their questions, because since the contest is being funded by students fees, they needed to make sure that every bit of money invested would not be to waste. Shortly after I was told to go for a physical and have some blood work done to make sure I was healthy enough to "compete" and after that I was accepted!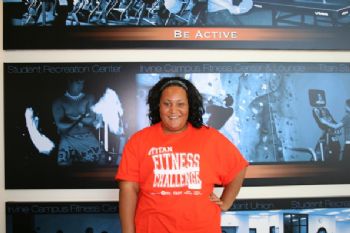 (My "before" Picture.. my hair is a mess lol. I started at 281)
The best part was that I saw sparkpeople as an option for tracking nutrition on the list of suggestions from my nutrtionist ( who is the sweetest person ever!), so since I have been using sparkpeople anyway, it was fun to merge it within my challenge. Many of the contestants weren't familiar with spark, so by seeing me use it week after week I think I may have spread the spark!
9 weeks in this week and having my final assessment next Tuesday on the 5 measures of fitness, I'm so happy I was accepted and have made it through to the end. I have become comfortable in the gym, and have found people to be so much more helpful then judgmental overall, I have taken up spin class (which I have come to really enjoy), I ran my first 5k, I'm 20 pounds lighter, I have found that I am stronger than I thought physically, and if I reallllllly try I can run a mile in 12 mins.! The grand prize this year for the Titan Fitness Challenge is an xbox with a kinect and a fancy Nike runner's watch ( I got a xbox w/ Kinect for xmas by the way, and I love it! lol). I don't expect to take the grand prize, but considering I was interested in this challenge without knowing that there was a grand prize, I'm leaving with my expectations surpassed and have won everything I wanted. I wanted something to help me get back on track, and also allow me to be social with other people who have the same goals as me. It was a different experience because ever since I started my weight loss journey everything had been virtual . I had my buddies on weight watchers online and here on Spark which have been awesome, but having physical interactions with others made a big impact on me.
I have always just done everything by myself, and being involved with others face to face was great. So even though I most likely will not take first place, I'm happy to say that one amazing lady in my group just might. She has lost 34 pounds and has fought to lose every single one of those pounds. She hurt her ankle in the beginning and kept pushing, and now she has a "runners hip" injury, she's just happy they called her a runner lol. I'm hoping that she'll win for our great trainer, who hasn't had much luck with consistent and dedicated contestants in the past years of the challenge. I think it would be great if we were the team that won him his first victory lol. After the competition it will be hard to keep in touch with my group on a face to face, 2 are graduating and 2 have such hectic schedules. But thanks to Sparkpeople and Facebook it'll be easy to keep in touch virtually. I do love my computer; all of my friends live inside of it.
Another interesting note is that I am biggest person in the competition, but the same emotional issues that I have experienced attached to my weight I found were just as real and painful in girls 100 pounds lighter then I am. I know that losing weight isn't going to make me magically different or happier, there are many aspects that go into an individual's overall well-being to be truly happy. That is why this journey is more than losing weight, it is also finding yourself along the way, by getting to know your weaknesses and your awsomenesses ( Yes, awsomenesses!).
I'll be sure to post updates after the winner is announced during the banquet they will be hosting for all of the contestants and their guests!

Here is the link to the challenge homepage if anyone is curious.
www.asi.fullerton.edu/tf
c/