Thursday, April 26, 2012
As the title says I haven't been having the best luck trying to find a job. I am trying to stay positive in this crappy situation. So let me tell you guys about the horrific experience that I endured yesterday...I called a place up that's new in town and they are looking for people. She wants to rent her chairs. Renting is hard when you don't have a clientele and the rent is 150 a week...what??? Anyways so I go in there with my portfolio and I'm confident in my work. She tells me that they pretty much aren't making money. Then she tells me that I'm going to cut hair...Say what???!!! Usually they at least tell you ahead of time so you can be prepared. I brought my husband with me. Needless to say he waited for two hours for me to finish. I don't want that job at all. To top it all off I found out that my step dad's daughter from his new marriage works there. It was so awkward. I asked her advice on one little part and she took over the hair cut and jacked up the girls hair. So I'm kind of hoping that it looks like I had no confidence in myself because I let her do the haircut. I didn't want to take credit for it anyways because I would not have given her the haircut that my step sister did. I don't even know if I can consider her that.
I got my shears in today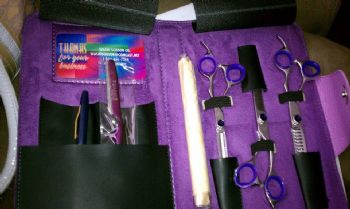 I absolutely love them! I can't wait to cut hair with them. I'm also going in to see Mandy which is the owner I was talking about in my last post. If only she wasn't renting things would be easier but I'm determined to work for her. I really like her way of doing things, and we get along so well. I think that's very important. Something has got to give. I have my faith and positive attitude and I hope that helps me some how. Hope you all are having a much better week than I seem to be having.