Good-bye My Little Buddy!
Wednesday, April 25, 2012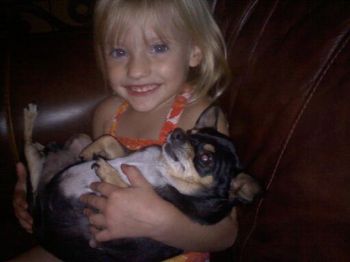 This is my granddaughter Bryanna and my little dog Chica. We have had her for 10 yrs. Earlier this year she started having seizures because of a soft spot on the top of her head. She had some really bad seizures today and passed away. This broke my heart as she was my was my best friend. She was very sick, but somehow she managed to get to me and laid at my feet and passed away. A pet can mean as much as any family member and that is the way she was to all of us.
Today we lost our dog, but tomorrow should be the birth of our newest grandchild. That does help to ease the pain a bit.