Wednesday, April 25, 2012
and so very out of shape.
A week and half ago I pulled a muscle in my left leg, and my water workout just seemed to aggravate the injury. So I decided to give the muscle a good rest and have not been to the pool in about a week. My leg is doing much better, so today I decided to add some light walking to my exercise plan. I got out my kitchen timer and set it for 5 minutes. And because it is very wet and raining outside I choose to walk around the house for the allotted time. I did my route down the hall into the kitchen, through the dining room and living area, and back up the hall to the bedroom – same little route for the 5 minutes. Now I do not consider 5 minutes to be a long time, but I was exhausted when the timer finally went off.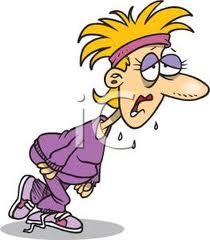 Exhausted, and shocked with just how very out of shape I was. From the difficulty I have doing my shopping I knew that I could not walk for too long, but I thought it was definitely longer than 5 minutes.
My eyes have certainly been opened to my need to get serious about this journey to health that I am on. My goal is to be able to walk for 30 minutes without having to stop for a rest by the time I leave on my Panama Canal cruise in 2014. I will accomplish this by starting off with my 5 minute walks a few times a day, and slowly build up to longer periods until I am at my goal.
I always enjoy company, so why not join me in my little exercise plan. It will do us a world of good!