And the Winner is - ME!!!!!
Wednesday, April 25, 2012
I am so proud of myself. Today is Administrative Assistant's Day and the bosses in our department decided to treat us to lunch. They organized a beautiful Italian lunch complete with pasta, chicken parmagian, lasagna, salad, and for desert they had cannolis, éclairs, and fruit tarts. Sounds yummy, but not very diet friendly. If I would have eaten that, I would had felt like a loser (and not of pounds nor inches).
So when I found out about the luncheon 2 days ago, I told my boss "if you really want to make it special for me, please make sure they bring enough salad so I can make a plate." I also asked for some balsamic vinaigrette (instead the creamy kind) and a plain grilled chicken breast.
Well, she did as I asked and I had a wonderful lunch with my co-workers without cheating on my diet. Actually, I was low in calories for my lunch so I can have a special treat tonight after dinner. Maybe the 100 calorie packs of chocolate covered pretzels with 1 tablespoon of peanut butter. I swear it tastes just like a crunchy reese's peanut butter cup. So yummy!! Want to hear something strange? I am actually more excited about tonight's 100 calorie chocolate pretzels with peanut butter than about the desserts they had on the table.
My how things have changed!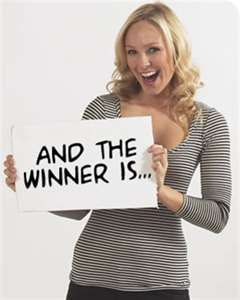 ME!!!!!!!!!