Wednesday, April 25, 2012
So I'm trying out Jillian's Body Revolution! I started on Monday and it been good so far! I've been doing the jumpstart first week, so I've been doing both ST and cardio dvds. I haven't weighed myself in a couple months 'cause I just knew the seeing a number would just depress me and have the opposite effect that I'd like, so I came up with a solution! To get my starting weight, I took a photo of the scale without looking at the number, then got my boyfriend to take the info and erase the photo.. then I'm just going to do the same thing every week and just have him tell me if the number is lower, higher or the same. :)
I've also been trying my hardest to keep my calories as low as possible.. Is it just me or is trying to stick to 1200-1400 calories a day REALLY hard?? Personally, I just can't live with three meals and a snack, it's just not enough! I find I really need a couple extra snacks throughout the day to not feel like I'm starving. Obviously I NEED to try my best to keep my calories low though, 'cause when I've been eating 1600(ish) a day my weight hasn't been budging. It's just tough, 'cause I'm awake for 15-16 hours a day.. Any tips you guys could give me would be really appreciated!
Oh, I forgot! Josh and I finally got to go for a bike ride on the weekend! It was lots of fun, but omg, my quads were screaming lol. I'm excited to go out again as soon as the weather clears up though~ The rain has really been relentless! I'm really hoping it's nice on the weekend though 'cause we're supposed to be going hiking with a few friends again. :)
With all this rain, it's been a lot of staying inside! Did another drawing though~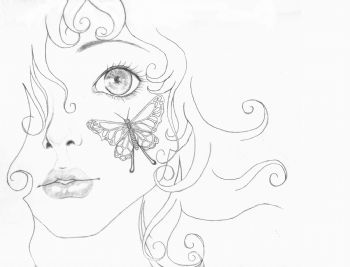 Just gonna focus on doing my best! I'm really hoping that all my hard work will pay off!